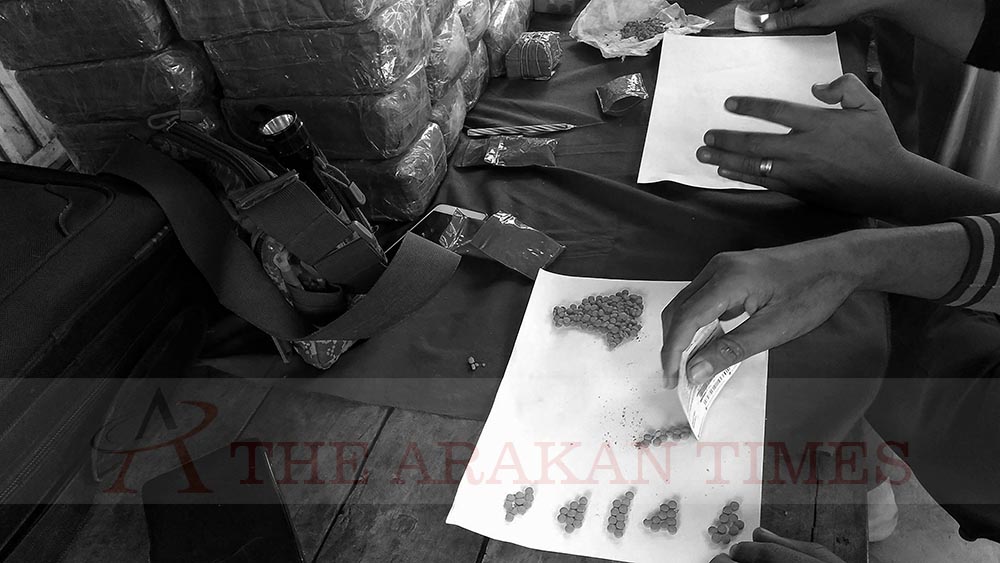 MAUNGDAW : It is now known that the Special Drug Control Unit (46), of Maungdaw District, arrested three culprits, who were caught red-handed with stimulant tablets worth 1755 lakhs (USD $150,000) in hand, at 11 PM on the 9th February, as they prepared to transport it to Bangladesh.
An official involved, from the Special Drug Control Unit (46), confirmed to DMG that a suspicious boat attempting to get across the Naf River was stopped and boarded, by a navy boat on patrol from a security camp (1), and was found to have a sizable sack of stimulants being smuggled by three Bengali Muslims.
"We caught them while we were on patrol in the Naf River. It was a small boat with a length of 20 ft. and width of 3 ft. We caught the three of them with 87750 stimulants labelled as WY in their hands".
The datainees are known as 28 year old Mahammad Sr Mount, 18 year old Arr Buu, and 18 year old Annatula, who said that they lived in ward (2) of Maungdaw.  They confessed to have been asked by 25 year old Lar Lu to carry the sack of stimulants to the middle of the Naff River where people from Bangladesh would come and take the sack, then the three of them would receive 50000 kyats each (USD $38) for transporting the drugs. The Special Drug Control Unit (46) is known to have taken the necessary measures to arrest Lar Lu (25 years old) and to take action against those three drug smugglers, whom all were arrested in line with national drug laws.