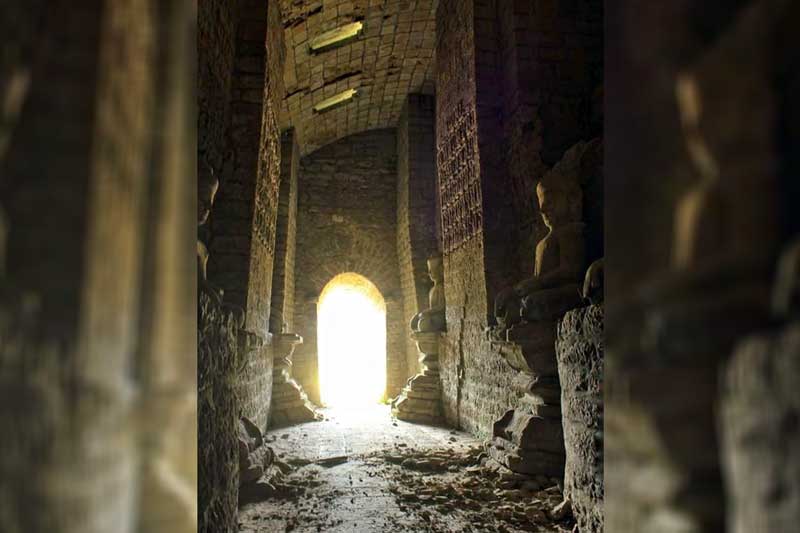 Khaing Roe La | DMG
27 January, Mrauk-U

Cracks have appeared in the roof and walls of Kouthaung Temple in Mrauk-U, Arakan State, with some parts of the ancient structure starting to crumble, according to the Mrauk-U Ancient Cultural Heritage Conservation Group.

The cracks began appearing late last year and some of the temple's stone sculptures are showing more signs of damage, the chairperson of the group, Daw Khin Than, told DMG.

"I think it was the impact of the gunfire near the temple. The temple is in critical condition now," Daw Khin Than said.

The marked deterioration comes at a particularly inopportune time, Daw Khin Than noted, as Mrauk-U was submitted as a UNESCO World Heritage Site candidate just this week. She said regional safety concerns — namely ongoing conflict between the Tatmadaw and the Arakan Army — meant proper restoration works could not be undertaken ahead of the bid's submission.

"I don't know what will happen when UNESCO comes and checks," Daw Khin Than said.

The Mrauk-U branch of the Department of Archaeology, National Museum and Library said it was planning to prioritize the conservation process of Shitthaung Temple at the moment.

Kouthaung Temple is located about 1.5 miles east of the Mrauk-U ancient city's Nandawyargone, or palace site. It was built by the Arakanese King Dikkha between 1553 and 1556. Its name is derived from the 90,000 Buddha images that exist at the temple.

Other centuries-old pagodas in Mrauk-U, the capital of the ancient Arakan Kingdom, have also been damaged by gunfire or artillery, the latter of which is also blamed for causing tremors that less perceptibly impact the structural integrity of the prospective Heritage Site architecture.