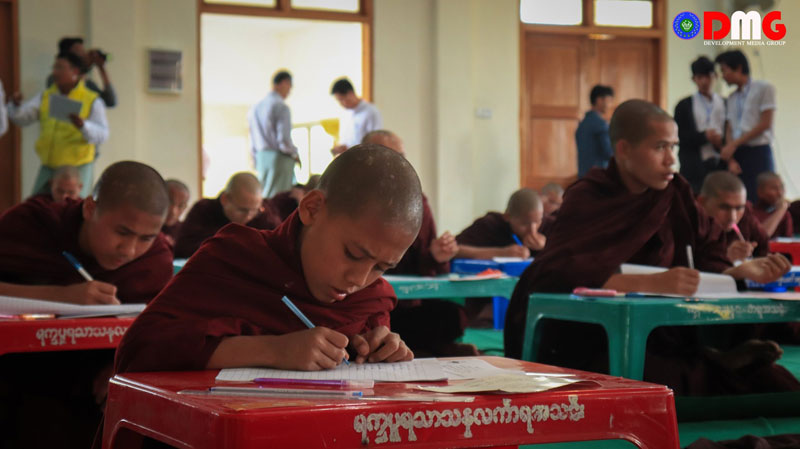 Kyaw Thu Htay | DMG
30 January, Sittwe
 
More than 200 monks and nuns did not take the Tharmanay Kyaw examination held in the Arakan State capital Sittwe due to the region's instability, according to the Rakhapura Sasana Alingara Association.

Although more than 800 monks applied to take the exam, which is led by the Rakhapura Sasana Alingara Association and was held from January 27 to 30, just over 500 monks sat for it.

"Other ethnic monks feel unsafe coming to the region to take this exam. So, only a few monks came due to rumors that skirmishes are occurring. Some ethnic monks did not come as they think that the country's situation is worrisome," said U Myint Oo, chairperson of the association.

There are five levels of the Tharmanay Kyaw examination: primary level, intermediate level, first level, second level and third level. The "Tharmanay Kyaw" title will be conferred upon those who pass the first, second and third levels.

The exam is primarily taken by monks from Arakan State but is also taken by monks from other states and regions, according to the Rakhapura Sasana Alingara Association.

On February 15, 2019, about 50 police officers scrutinized 227 monks who were returning to Yangon after taking the Tharmanay Kyaw exam in Sittwe, with checks taking place at Oat Shit Pin inspection gate, Nawaday Bridge inspection gate and Zawtikaryone Monastery in Pyay.

The association said they have asked government officials not to similarly inspect the monks who will be returning to their places of origin after the exam this year.