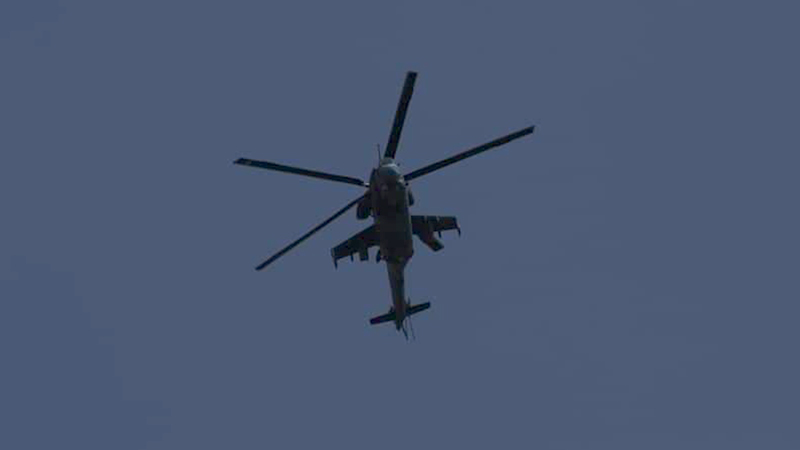 Win Nyunt | DMG
11 February, Sittwe
 
Fighting flared between the Tatmadaw and Arakan Army on February 10 in Paletwa Township, Chin State, and Arakan State's Buthidaung and Kyauktaw townships, with both sides suffering heavy casualties, the AA said.

A clash occurred between the Tatmadaw's 22nd Light Infantry Division and AA troops at an area between Nwayone Taung and Kun Taung villages in Buthidaung Township, and the fighting was fierce as the Tatmadaw launched offensive operations involving aerial support and heavy weapons fire, the ethnic armed group said.
"The Burma Army is found to be adopting a scorched-earth policy these days. They are launching offensive operations using all three kinds of forces. They are fighting with the supporting fire of heavy weapons and air strikes," AA spokesperson Khaing Thukha said.

In a statement, the Tatmadaw said its military columns engaged with AA members near Kun Taung village, east of Sai Din Creek, corroborating the AA claim that airpower and heavy weapons were used. It said the military resorted to the extraordinary tactical measures because the opposing AA force was larger.

The AA suffered considerable losses in the attacks and the Tatmadaw seized dead bodies and weapons, it said. During the battle, the Tatmadaw attacked a boat that was believed to be ferrying fleeing AA leaders across Sai Din Creek, and the vessel was sunk during a shootout, said the statement, which did not report casualty figures on the Tatmadaw side.

"Both sides suffered heavy casualties during the hostilities yesterday," Khaing Thukha said.

The Tatmadaw and AA also exchanged fire near an artillery camp that was providing supporting fire near Mee Creek's bridge in Paletwa Township yesterday. Fighting broke out in that area on February 5 as well, the AA said.

It said the Tatmadaw and AA also fought near Tin Ma village in Kyauktaw Township yesterday, with the Tatmadaw using rockets, machine guns and two helicopters in that clash.

The Tatmadaw has not yet released a statement regarding the fighting in Paletwa and Kyauktaw townships.

Hostilities between the Tatmadaw and AA in Arakan State have persisted for more than a year, resulting in the displacement of over 100,000 civilians.