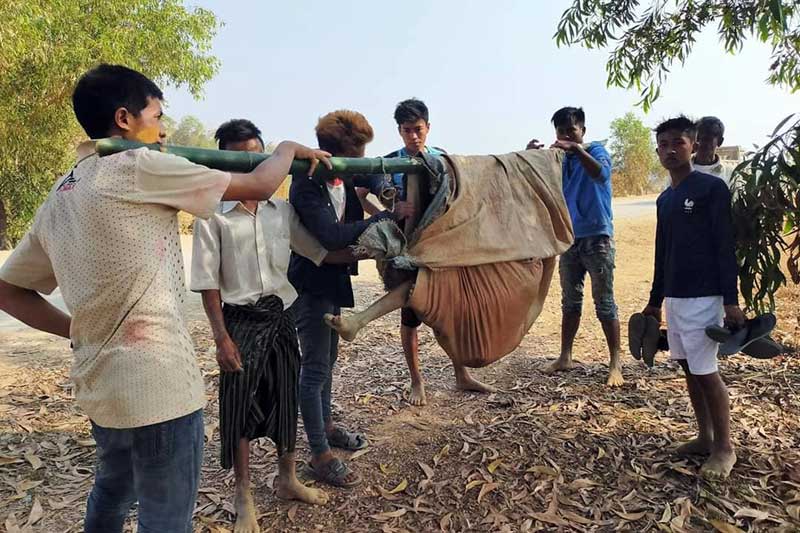 Myat Swe | DMG
13 February, Minbya
A 17-year-old was killed in an explosion on February 13 near Phar Pyaw village, in Arakan State's Minbya Township, according to family members of the teen.
The victim was identified as Nga Lone Chay and the explosion occurred on Thursday afternoon as he was returning home from cutting wood in the forest with his friend Ko Zaw Linn, his aunt Phyu Ma Chay said.
"We don't know if it was a landmine explosion or artillery shell. There was no fighting and did not hear gunfire," she said. "We only know what his friend Zaw Linn told us about the incident. He [Zaw Linn] is also deaf now due to the explosion. He just told us, but he couldn't hear what we said."
The blast took place two miles from Phar Pyaw village and Nga Lone Chay's body was recovered at about 3 p.m.
His family is poor and earns its living cutting wood, residents said.
Elsewhere in Arakan State on February 13, at least 21 students were injured when an artillery shell hit a primary school in Khami Chaung village, Buthidaung Township. 
Fighting between the Tatmadaw and Arakan Army has intensified across multiple townships in Arakan State in recent weeks, bringing an attendant rise in civilian casualties.