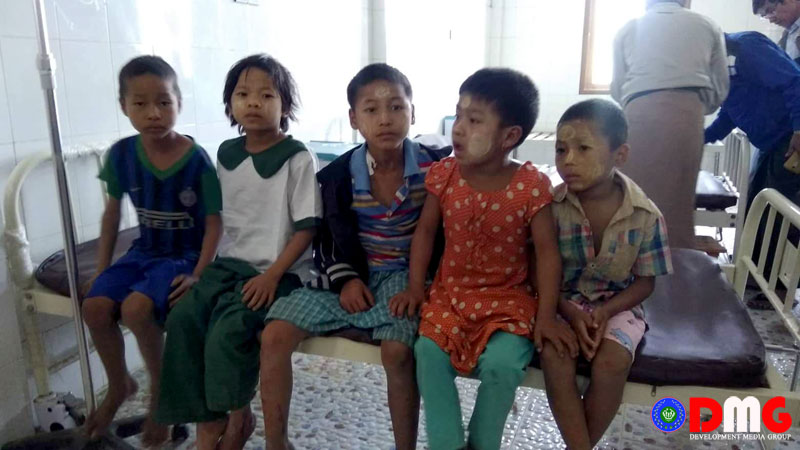 Khin Tharaphy Oo | DMG
14 February, Buthidaung
The Tatmadaw and Arakan Army are accusing each other of having fired the artillery shell that hit a village school in Arakan State's Buthidaung Township this past week, but both sides have also denied those allegations.

Twenty-one students were injured when an artillery shell struck the roof of the school in Khami Chaung village at about 10 a.m. on February 13 while the children were in class, according to parents of the victims. 

Local people and teachers have said that they did not know which armed group fired the artillery, and both the Tatmadaw and Arakan Army have refused to take responsibility for it.

According to a Tatmadaw statement, its troops exchanged fire with Arakan Army fighters as the latter attacked the former with heavy weapons and assault rifles near Ouk Taung village at about 8 a.m. on February 13. Members of the Arakan Army then retreated about 1,200 meters south of Khami Chaung village and, in the Tatmadaw's retelling of events, the school was hit by an artillery shell fired by the ethnic armed group.
In a press release, Arakan Army spokesperson Khaing Thukha countered with his own version of Thursday's incident: The artillery shell was fired by the MOC-15 (the Tatmadaw's 15th Military Operations Command, based in Buthidaung) to help a Tatmadaw battalion engaged in hostilities with the Arakan Army near Kan Paing Chaung village. The school was hit at about 10 a.m. when an artillery shell was fired for the third time that morning, Khaing Thukha's statement alleged.
There are 63 students enrolled at the school, which remains closed following the shelling. The wounded children ranged in age from 5 to 12 years old.
The numbers of civilians killed or injured in clashes between the Tatmadaw and Arakan Army in Arakan State over the past year has reportedly risen to more than 130 deaths and 360 wounded, according to data compiled by the Arakan Students Union (Universities-Yangon).