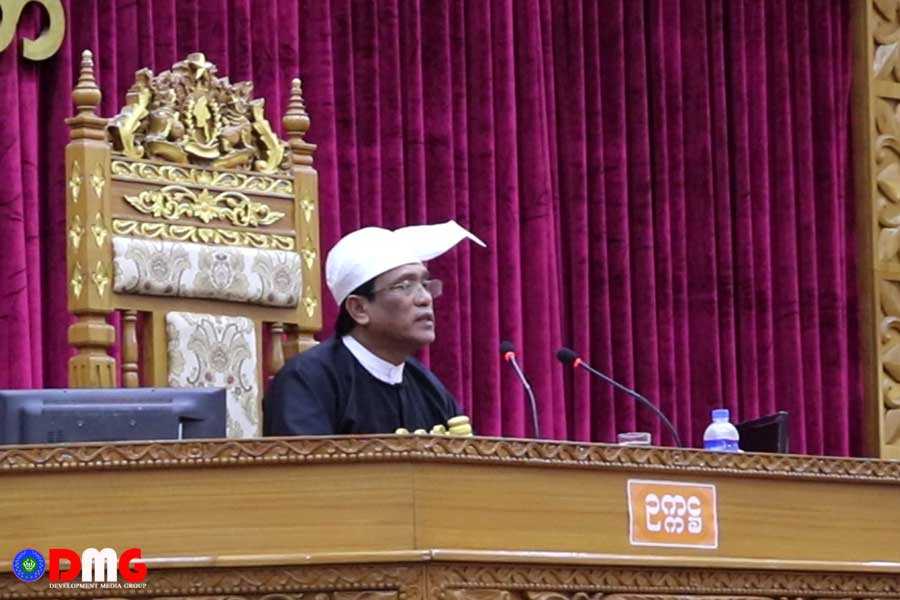 Hnin Nwe | DMG
February 17, Sittwe
 
Arakan State Hluttaw Speaker U San Kyaw Hla has urged the government to do better in assisting internally displaced people (IDPs), including by welcoming international humanitarian groups previously barred from operating in conflict-affected parts of the state.
 
Speaking during a legislative session on February 17, U San Kyaw Hla said international organizations were ready to provide assistance to IDPs in Arakan State but were facing difficulties doing so as the government delayed in issuing permits to them.
 
"Only providing K300 [US$0.20] for rice cannot solve the problems of IDPs," he said. "I understand that the government also has its own difficulties. That's why I don't want to say to provide more money such as K500 or K1,000. But there are people who want to help IDPs. So I wish the government would help with sending donation items to IDPs according to their needs."
 
He added that IDPs were both physically and mentally affected by the conflict, with many having left their homes and farmlands behind to take refuge at displacement camps. Some had lost family members during the fighting, the speaker noted.
 
"The main entity responsible for looking after IDPs is the government. No one can deny it. But MPs should also get involved to help them," he said.
 
Citing security concerns, the Arakan State government in January 2019 barred international and local aid groups from conflict-affected parts of the state, with the exception of the World Food Programme and the International Committee of the Red Cross. Restrictions have since somewhat loosened, but significant hurdles remain for humanitarian actors looking to operate in the state.
 
Fighting between the Tatmadaw and Arakan Army has displaced tens of thousands of civilians, with many facing hardships related to lack of food, shelter, education and healthcare, among other day-to-day livelihood concerns.