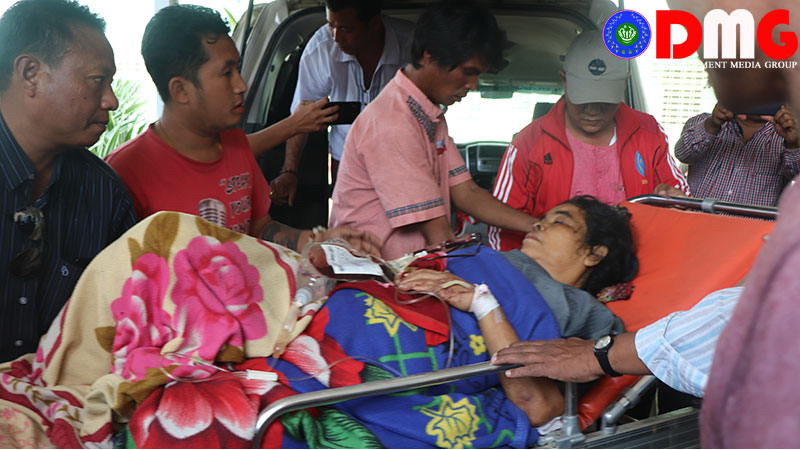 Khaing Roe La | DMG
24 February, Sittwe
 
The Tatmadaw has denied accusations that its troops were responsible for wounds suffered by two women and a young man in Kyauktaw Township, Arakan State, with the military saying the victims were instead hurt by the Arakan Army (AA).

A convoy of Tatmadaw vehicles carrying out regional security and administrative works in Kyauktaw Township was attacked by the AA with two remote-detonated mines and other small and large arms fire near Mahar Kan Gyi Shin Pagoda at about 9:05 p.m. on February 22, said a Tatmadaw statement issued on February 24.

It said artillery shells fired by the AA landed in Pike Thal Ward of Kyauktaw town, injuring the two women and young man.

But Khaing Thukha, an AA spokesperson, said there was no fighting between the two sides on that day. He blamed the Tatmadaw for firing the shots that injured the three civilians.

The Tatmadaw convoy was firing on their way from Mahar Kan Gyi Shin Pagoda to the Kissapanadi Bridge, said U Shwe Tun Aung, the father of the male victim. Then, an artillery shell landed on a house and injured three people, he added.

"A military vehicle passed through at about 8:30 p.m. I don't know where the shell came from. I heard gunfire once the military vehicle passed through. After hearing a loud noise, my wife fell down. The shell came from the north side of our house," he said.

Daw Hnin Nu Wai, 56, sustained injuries on her abdomen and 17-year-old Maung Gyi, son of U Shwe Tun Aung, suffered a broken leg. Both injuries were considered so serious that the victims were sent to Sittwe Hospital.

Daw Thu Tu, a 57-year-old who lives in the house of Daw Hnin Nu Wai, sustained a minor injury to her leg and is receiving medical treatment at Kyauktaw Hospital.

Daw War War Shwe, who also lives in the house of those injured, said there was no fighting in the town on February 22.  

"As far as I know, nobody dares to go outside at about 9 p.m. Only military vehicles were outside and we heard the sounds of the military opening fire," said Daw War War Shwe.

On the afternoon of February 22, a Tatmadaw officer and a private were killed in an apparent shootout with AA soldiers near Kyauktaw town's Global Treasure Bank branch.

The gunfight broke out after AA troops tried to stop three men in plainclothes who they deemed suspicious.
Following that incident, additional Tatmadaw troops arrived in Kyauktaw town, setting residents on edge, local sources said.

The Tatmadaw and AA have engaged in hostilities across several Arakan State townships, including Kyauktaw, in recent months.