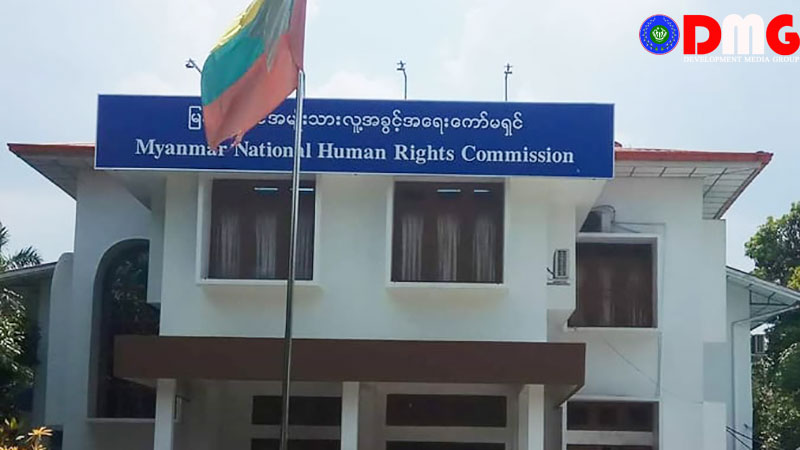 Kyaw Thu Htay | DMG
March 2, Sittwe

The Myanmar National Human Rights Commission (MNHRC) has opened a branch office in the Arakan State capital Sittwe to facilitate reporting for anyone who has suffered human rights violations in the region.

In a statement, the commission said complaints can be submitted if a citizen has had their fundamental rights breached, including violation of any of the rights laid out in the United Nations' Universal Declaration of Human Rights, the UN Convention on the Rights of the Child, the UN Convention on the Elimination of All Forms of Discrimination Against Women, and the International Covenant on Economic, Social and Cultural Rights.

The statement also said that individuals can submit complaints directly, or on behalf of someone else or a group of people, if human rights violations have occurred.

Civilians have borne the brunt of the hardship stemming from fighting in Arakan State between the Tatmadaw and the Arakan Army (AA) over the past year, and multiple cases related to the conflict have been submitted to the MNHRC, with some prompting on-the-ground investigations by the commission.

One high-profile probe involved the shooting deaths, while in military custody, of eight civilians at Rathedaung Township's Kyauktan village on May 2, 2019. Six others were injured in the episode and 275 local villagers were detained and questioned by the Tatmadaw on suspicion of having links to the Arakan Army.

The Tatmadaw defended its soldiers' conduct, saying they discharged their firearms because the villagers had attempted to seize their weapons. The MNHRC investigated the case and found no culpability among members of the military.

MPs and residents have since criticized the MNHRC's findings, alleging that the outcome of inquiry was not reflective of the facts on the ground.

The commission has asked that any complaints submitted to it include the name and address of the complainant, as well as the details of the alleged human rights violation, including any evidence in support of the allegations. A copy of one's National Registration Card and a letter containing the signature of the complainant and an attestation to the veracity of the complaint, is also required.

All complaints can be submitted in person or by mail.