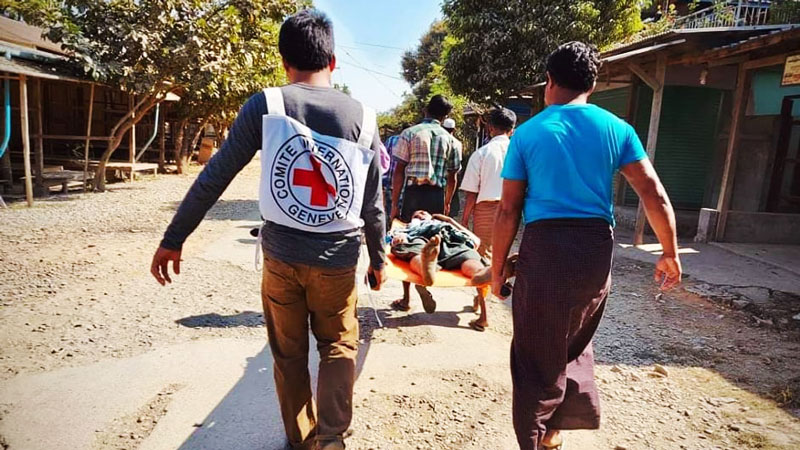 Aung Htein/DMG
March 3, Sittwe

The International Committee of the Red Cross (ICRC) released a statement on March 2 urging the Myanmar government to allow anyone injured by conflict in Arakan State to travel freely in order to receive medical treatment, as conflict continues to plague the region.

The statement said it was concerned that civilians were suffering due to recent clashes in Arakan State, where the Tatmadaw and the Arakan Army (AA) have been engaged in hostilities for more than a year.

"Working alongside Myanmar Red Cross Society, we remain ready and committed to helping the wounded in need of life-saving emergency care," ICRC's Myanmar team said.

"The ICRC is seriously concerned about the increasing impact of the ongoing fighting on the civilian population, including on women and children, in central and northern areas of Rakhine [Arakan State]," it added. "We urge all parties to the conflict to take all necessary precautions to protect the civilian population and to allow rapid and unhindered access to medical treatment for the wounded at all times."

U Tun Thar Sein, a member of the Arakan State legislature from Mrauk-U Township, said the ICRC should be able to travel and provide assistance freely in Arakan State.

More than 130 civilians have been killed and over 360 injured due to fighting in Arakan State between the Tatmadaw and the AA, according to the Arakan Students Union (Universities – Yangon).

In addition to those casualties, there are 128,435 internally displaced persons (IDPs) in Arakan State, according to figures released by the Rakhine Ethnics Congress (REC) on February 29.