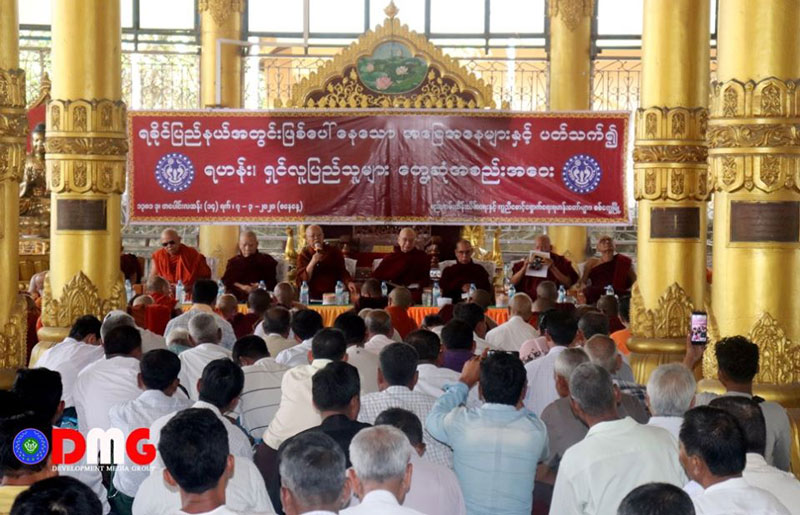 Aung Htein | DMG
March 8, Sittwe

Around 400 people, including monks, held a dialogue in Sittwe on March 7 focused on issues of public concern in Arakan State, with the results of the discussion to be submitted to the president.

Sayardaw U Sandar Waya, the head monk of Aung Myay Kone Monastery in Sittwe, said that he wanted Myanmar's leader and the international community to hear about the difficulties of Arakan State's people.

"We monks and people gathered and held the discussion so that the rulers who have ignored these issues, and the world, can know what is going on across Arakan State," the Sayardaw said.

The conversation on Saturday produced a list of actions to be avoided in the war-torn region, including the detention and killing of civilians, attacking of villages with artillery fire, and the disruption of trade and commerce. There was also agreement on the need to restore internet access to the nine townships of Arakan and Chin states where online services have been cut off for several months.

Other imperatives highlighted during the discussion were letting journalists gather information freely, enabling those injured to have unfettered access to proper medical treatment, and allowing organizations to provide assistance to internally displaced people (IDPs) without restrictions.

The chairperson of the Thingaha Kan Lat Yakhita Group, U Ann Thargyi, said that the public were suffering greatly from the troubles discussed on the weekend. If the government does not act in response to the concerns put forward, he said it can be considered negligent in its duties.

"If the government doesn't address these facts, that can be assumed that the public are being ignored," he said.

A committee, including the head monks from the Sittwe Discipline Enforcement Group and 25 laypeople, was formed during the discussion on March 7. One of the committee members, Ko Khaing Myo Tun, said that they will demonstrate against the government if their demands are ignored.

"We will set a limited time frame on our statement. For example, we will decide to demonstrate against the government if our demands are not addressed within a week or 20 days," he said.

There are more than 120,000 IDPs in Arakan State due to fighting between the Tatmadaw and the Arakan Army (AA), who are facing difficulties in getting basic necessities such as food, clothing and shelter. Access to adequate healthcare and education are also ongoing concerns.

According to the Arakan Students Union (Universities – Yangon), more than 130 civilians have been killed and over 360 people injured due to conflict between the Tatmadaw and the AA in Arakan State.