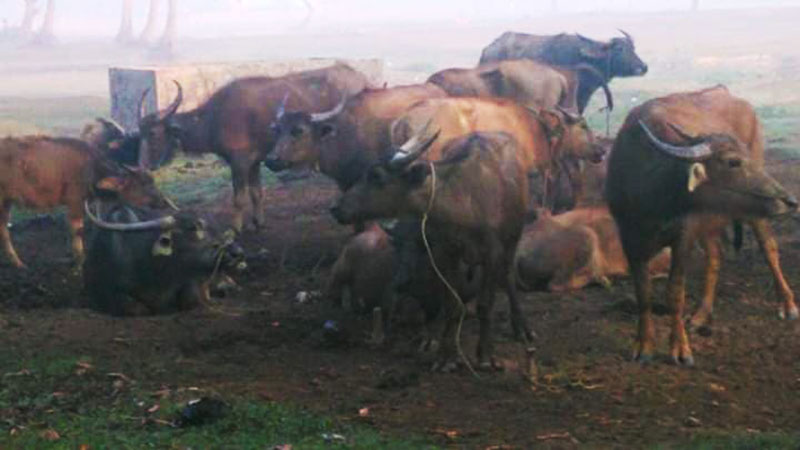 Khin Tharaphy Oo | DMG
March 12, Pauktaw

Dozens of cattle have gone missing in Arakan State's Pauktaw Township in recent years, according to residents, who say law enforcement has been slow to act on what they suspect is livestock theft.

Residents said that they have lost up to 30 cattle every year in Pauktaw Township, including in Kyaing Khwe Maw, Manaw Thiri, Chaung Nwe and Sarpyin villages.

Kyaing Khwe Maw village administrator U Than Htay said 13 cattle were stolen from his village on February 15 alone.

"The 13 cattle are only from one owner. We haven't heard anything even though we submitted a complaint to police. We haven't gotten our cattle back," he said.

Sarpyin village administrator U San Win Maung agreed that cattle disappearances were a problem in the township.

"Five cattle were stolen from my village last week. It happens like that very often at our village. We lose the cattle every year and never get them back," he said.

U Aung Kyaw Htwee, a State Hluttaw member from Pauktaw Township, said a lack of security in the area was part of the problem.

"There is a lack of security. There is also weakness in taking action; most of the cases aren't solved," he said.

The MP added that instead of submitting a complaint to their local police station, cattle owners often try to track down their livestock themselves, rather than rely on an effort from law enforcement that they expect will be slow-moving if not nonexistent.

Hla Htay, a deputy police officer from Pauktaw Myoma police station, said that cattle losses could be chalked up to owners not watching their herds closely. Local law enforcement followed up on cases brought to them, he insisted.

"When we have checked the complaints, they [cattle owners] grazed the cattle day and night. They lost one or two cattle, or five maximum. It can happen like that. We take the complaint as a case only with evidence or witnesses," he said.
Hla Htay added that three or four cases are currently open at Pauktaw police station, noting that cattle have gone missing in Minbya, Myebon and Mrauk-U townships as well.

The implicit call by the law enforcement officer for greater vigilance among livestock owners comes amid several recent tragedies involving herders who have stepped on landmines after venturing from the relative safety of their villages to take livestock to pasture.