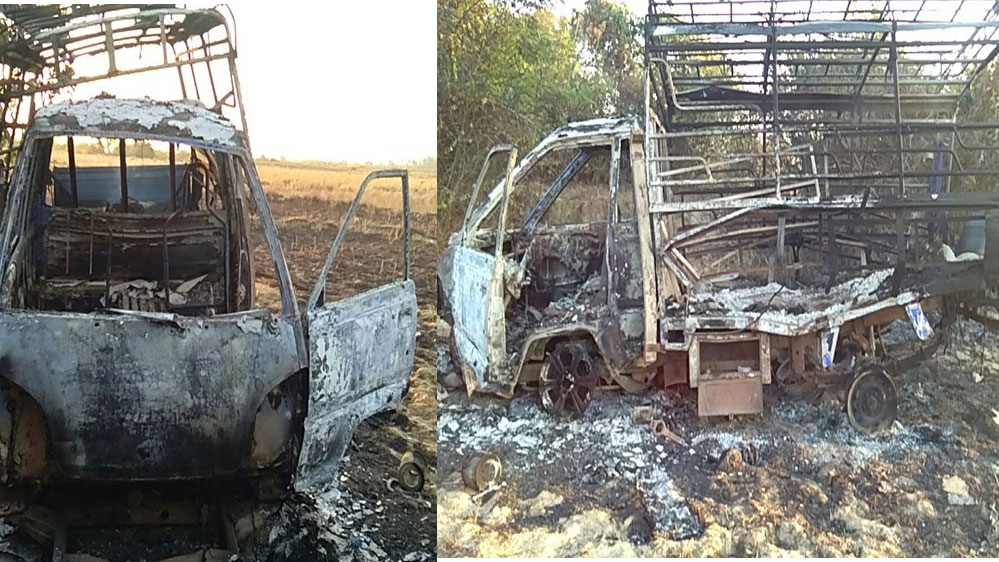 Win Nyunt | DMG
16 March, Mrauk-U
Tatmadaw troops were killed and injured, and some military vehicles destroyed, when their convoys were attacked by mine detonations and gunfire on March 13 in Arakan State's Mrauk-U and Kyauktaw townships, the Office of the Commander-in-Chief said on Sunday.
The statement corroborated earlier reports from residents and local administrators in the townships, with one official last week describing a subsequent reprisal by Tatmadaw troops involving a hail of indiscriminate gunfire targeting civilian populations.
Two military columns travelling to provide security for students sitting matriculation exams in the region faced attacks near Mrauk-U Township's Paung Toke and Tin Nyo villages, the Tatmadaw said. Another military convoy conducting security activities in northern Kyauktaw Township also faced three remote-controlled mine attacks and gunfire from the Arakan Army (AA) near Thazi village, the statement said.
As the attacks unfolded, the Tatmadaw columns had no choice but to retaliate, it added.
But responding to the Tatmadaw's statement, AA spokesperson Khaing Thukha said: "When we opened fire on them, they could have returned fire. But they fled from the areas where they were attacked and shot Arakan villages along the way."
In justifying its retaliatory actions, the Tatmadaw said AA members were embedded in villages and IDP camps pretending to be civilians. It said the embeds were responsible for laying and detonating landmines that targeted military convoys carrying out administrative duties, vehicles and vessels transporting food supplies or materials, and police stations.
The AA also detonated roadside explosives hitting convoys from other organisations providing relief aid to the region under the auspices of the United Nations in Arakan State, the statement alleged.
Khaing Thukha refuted that accusation, saying: "The AA did attack the military convoys because they are our enemy. But we never attack any UN organisations."
Three civilians were killed and many more were injured, family members and residents said of the Tatmadaw's self-described counterinsurgency operations in the wake of Friday's attacks. Another three of those injured later died while receiving medical treatment.
The Tatmadaw did not mention any civilian casualties in its statement. DMG phoned Tatmadaw spokespersons seeking comment on the reports of civilian casualties, but they could not be reached.