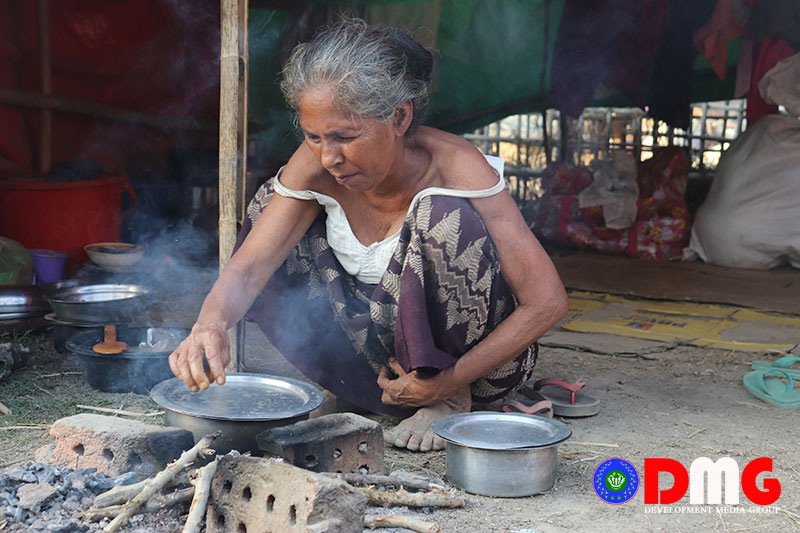 Khaing Roe La | MG
March 20, Rathedaung

Camps for internally displaced people (IDPs) in the town of Rathedaung are in need of firewood for cooking, as well as food supplies, IDPs say.

Daw Than Yu, who fled to Rathedaung town from Nyaung Pinhla village, said that they can't afford to buy firewood and have instead been using branches cut from nearby mangrove forests.

"We need firewood but we can't go far to cut it. We don't have money to buy it either. So we just go near the camp for firewood and have to use whatever we can find," she said.

Another camp resident, Daw Ma Yaung Chay from Manyin Taung village, said IDPs would like to venture into the forested mountains to cut firewood, but were afraid that they might encounter landmines.

Ko Bakar, who helps IDPs as a volunteer, said IDPs were facing difficulties buying firewood due to a lack of cash, even though they are receiving some assistance from civil society organisations and charity groups.

"Although we support IDPs as much as we can, it isn't enough. They need firewood. So they just go and cut the mangroves from the back of this camp. The mangroves are wet but they still burn it for cooking," he said.

IDP camps have been set up in Shwe Parami, Kanethar Dhama Yatethar, Popepappa, Dhanyawaddy and Dhamayone monasteries in Rathedaung town, which is located about 25 miles northwest of the Arakan State capital Sittwe.

There are up to 130,000 IDPs in Arakan State due to conflict between the Tatmadaw and Arakan Army, according to the Rakhine Ethnics Congress.