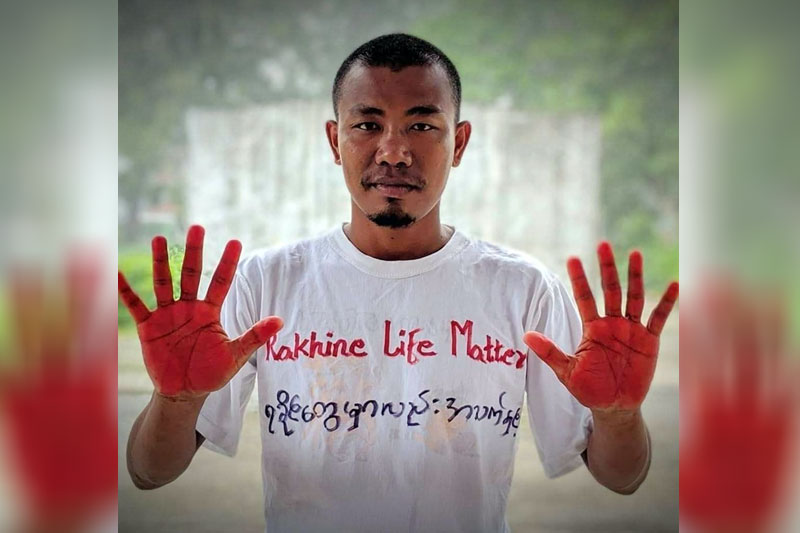 Aung Htein | DMG
21 March, Sittwe
 
The Sittwe District Court on March 20 sentenced Ko Than Hla, aka Ko Min Bar Chay, to 15 days in prison after he and others staged demonstrations last year calling for justice in the killing of civilians in Arakan State.

U Aung Sit Min, the lawyer for Ko Min Bar Chay, said the court ordered the defendant to pay a fine of K20,000 (US$14) or serve 15 days behind bars.

"He said he had protested for peace, so he was innocent and wouldn't pay the fine," said the lawyer for Ko Min Bar Chay, who was charged under Section 19 of the Peaceful Assembly and Peaceful Procession Law after he protested on July 4 along with five other youths.

They staged the protest at U Ottama Park in the Arakan State capital Sittwe, demanding an end to war and justice for civilians whose lives were lost to conflict in recent years. However, it was not that demonstration, but rather an earlier protest, that resulted in Ko Min Bar Chay's sentencing on Friday.

He and others in January 2019 gathered outside the Arakan State government office to protest the killing of seven people and wounding of a dozen others a year earlier when police attempted to disperse a public gathering by shooting into the crowd in the ancient Arakanese city of Mrauk-U.

Citing both protests, a police officer from the No. 1 Police Station in Sittwe opened a lawsuit on September 23, 2019, under Section 19 of the Peaceful Assembly Law. The court on Friday acquitted Ko Min Bar Chay of wrongdoing in the Sittwe park protest, but sentenced him to 15 days for the demonstration outside the state government building.