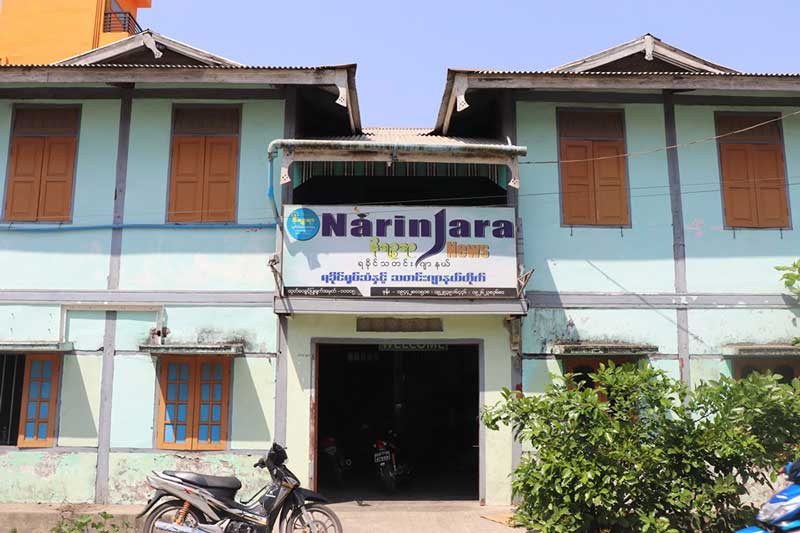 Khaing Roe La | DMG
1 April, Sittwe

The editor-in-chief of the Sittwe-based Narinjara News agency has been charged under a terrorism law and three reporters from the media outlet were questioned for six hours this week at a police station in the Arakan State capital.

Police officers and a ward administrator searched the news agency at about 5 p.m. on March 31 and senior reporter Thein Zaw and two of his junior colleagues, Aung Lin Tun and Tun Khaing (Taung Yin Kyun), were subsequently taken into custody. Police also seized a computer from the Narinjara office.
Although the three journalists were released at about 11:30 p.m. after being interrogated, police kept possession of the seized computer, according to responsible people from the news agency.

The three reporters were questioned separately at the police station, with their interrogators asking for the whereabouts of Narinjara's chief editor, U Khaing Myat Kyaw, as well as posing questions about the news outlet's operations and editorial processes, reporter Ko Thein Zaw told DMG.

"They didn't inform us in advance before they arrived," he said. "When they arrived, they asked the whereabouts of U Khaing Mrat Kyaw. As U Khaing Mrat Kyaw hadn't been at the office, they took us to the No. (1) police station. We were released at about 11 p.m. after being questioned. They asked us how to cover and write news, and who uploads the news."

The raid on the Narinjara office in Sittwe came just about one week after the government declared the Arakan Army (AA) a terrorist group and unlawful association on March 23. Narinjara video editor Ko Naung Khaing Aung told DMG that the legal action brought against Narinjara was due to contacts with the AA, whose spokesperson is frequently quoted by numerous news outlets in Myanmar.

"We are journalists. We have to report the truth without bias. We cover in this way. We contact the AA but it does not mean we support it. It is necessary to understand this point," he said. "We have to contact both sides if the Tatmadaw and AA fight."

Access to the Narinjara website via mobile internet in Myanmar has been blocked since March 23. Likewise, the websites of the Development Media Group (DMG) have been blocked since March 24.

Those attempting to load the sites are directed to a page notifying them that access has been denied "according to the instruction of the Ministry of Transport and Communications (Myanmar)".

DVB reporter Wanna Kwar Nyo said authorities' moves against Narinjara and other media operations in recent days amounted to intimidation tactics intended to cow journalists into reporting less sensitive subjects.

Narinjara and DMG are both Sittwe-based news agencies with coverage focusing on matters of war and peace in Arakan State. U Aung Marm Oo, editor-in-chief of DMG, and other responsible people within the organisation were sued by Myanmar's Special Branch police under the Unlawful Association Act's Section 17(2) in May 2019.

And there were other troubling signs of backsliding on hard-won press freedoms elsewhere in Myanmar this week.

Ko Nay Myo Lin, chief editor of the Mandalay-based Voice of Myanmar (VOM) news agency, was charged under sections 50(a) and 52(a) of the Counter-Terrorism Law on March 30.

Moreover, police and Criminal Investigation Department personnel checked the house of Thar Lun Zaung Htet, editor-in-chief of Khit Thit Media in Yangon, at about 10:30 p.m. on March 31, the Myanmar Press Council announced on April 1. It is believed that he is also being sought by authorities.

The multiple charges targeting journalists in recent days have raised concerns among Myanmar's press corps, which less than a decade ago was muzzled by censorship but in the years since has carved out an important role for itself in the national discourse. With authorities wielding laws covering terrorism and other forms of criminality against reporters and editors, many in the industry increasingly fear that additional arrests could come at any time, for any reason.