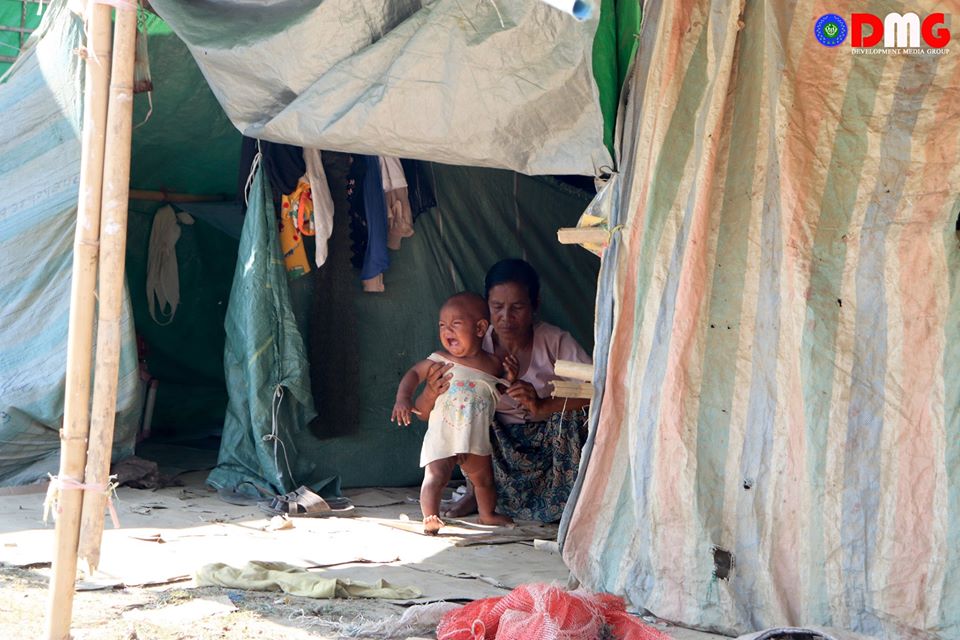 Myat Swe | DMG
April 2, Sittwe
The Rakhine Ethnics Congress (REC) reported on March 31 that the number of people internally displaced (IDPs) by conflict between the Tatmadaw and the Arakan Army has increased to 157,291.
The REC said severe clashes occurred in March, and although a few camps shut down in some townships, new camps had also sprung up in many townships, including Sittwe, Kyauktaw and Rathedaung. 
"Accommodation is urgently needed at IDP camps because strong winds are blowing in summer and it is dusty as well. People in some camps use straw for their roofs. Some people have rashes [on their skin] from the straw. Another thing is the huts built last year were ruined. If it starts raining, people cannot live there," REC chairperson U Shwe Baw Sein said.
Also of concern for Arakan State's IDP camps is the global coronavirus pandemic. Myanmar had confirmed 20 positive cases as of April 2, but amid government appeals for diligent hygiene practices to stave off infection, IDPs say they are struggling to wash their hands properly due to water shortages in the camps.
"Water and soap are required for hand-washing. We don't know anything about how far the virus is spreading due to the internet blackout," said U Wai Hla Aung, an official at Mrauk-U Township's Tin Nyo IDP camp, referring to a government-imposed ban on mobile internet access in nine townships of Arakan and Chin states.
Fighting between the Tatmadaw and the Arakan Army broke out in Arakan State in December 2018, and clashes continue with regularity across the state, with civilian casualties mounting alongside the rising displacement figures.
Residents are concerned that fighting may only intensify following the government's declaration of the Arakan Army as a terrorist group on March 23.