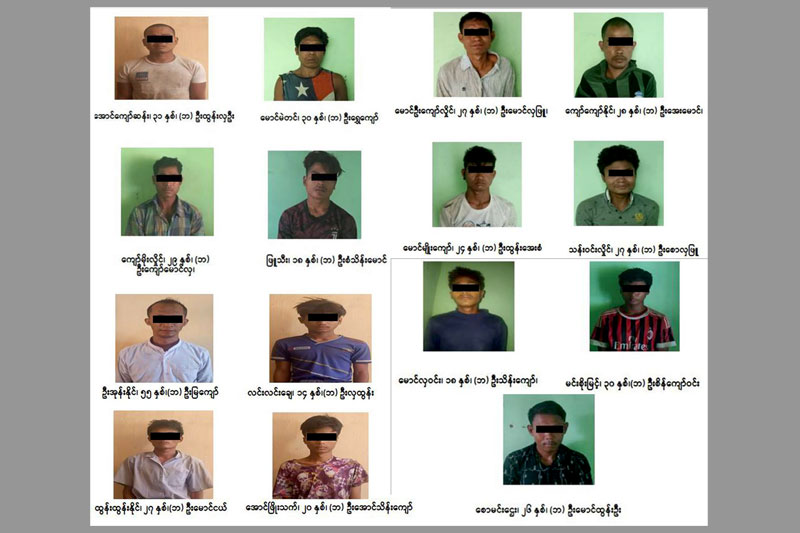 Nay Yaung Min | DMG
April 9, DMG 
The Office of the Commander-in-Chief has stated that the military last week detained 15 men from Kyauktaw Township, including a village-tract administration clerk, for alleged links to the Arakan Army (AA).
Locals said the men were detained while transporting government-supplied rice to Nyaung Chaung IDP camp from the township administrative office.
The Tatmadaw, however, alleged in its April 8 statement that they were members and supporters of the AA ethnic armed group.
The statement said the Tatmadaw stopped and checked a vehicle loaded with 150 rice bags on April 4.
The military said a subsequent investigation found that Nyaung Chaung village-tract clerk U Ohn Naing asked for rice supplies to be provided to IDPs monthly. When he received the rice sacks, however, he only gave two-thirds of the total to the IDPs and diverted the other third to the AA, the Tatmadaw statement alleged.
The Tatmadaw also said that the group included seven people who received military training in "forest camps" in 2019 and 2020, and one person who collected money for the AA.
In recent weeks, multiple media outlets that have used the AA as a source in their reporting have faced charges under the Counter-Terrorism Law. As such, at this time DMG is opting not to contact the AA for comment regarding the Tatmadaw's statement.
Pyithu Hluttaw lawmaker U Oo Tun Win from Kyauktaw Township and a camp official from Nyaung Chaung confirmed that the men were detained while taking rice bags to IDPs.
DMG spoke to some family members of the detainees who insisted that the men did not have any links to the AA.
The Tatmadaw said that they have been working to take legal action against the 15 men, who have been transferred into police custody.