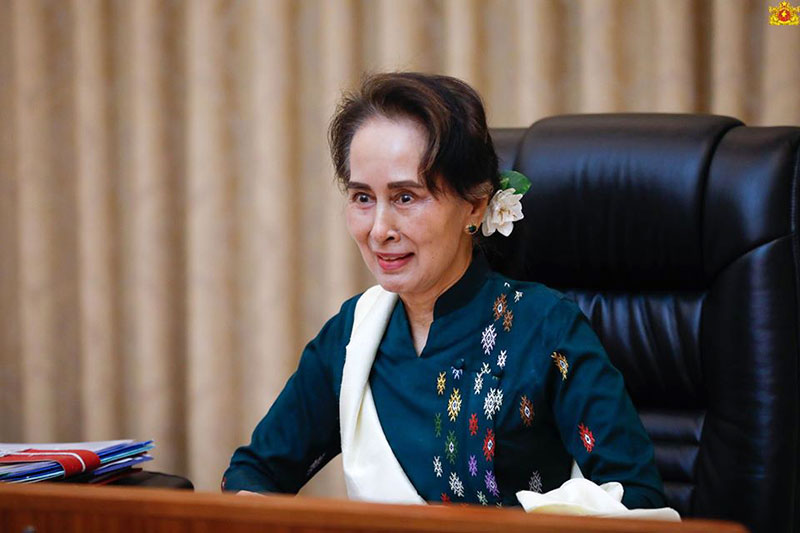 Nay Yaung Min | DMG
21 April, Sittwe

The Office of the State Counsellor on April 21 published a statement signed by Daw Aung Suu Kyi that praised military personnel engaged in hostilities with the Arakan Army, adding that her government was "deeply saddened" by civilian casualties in Arakan and Chin states.

"We pay tribute to the members of the Tatmadaw who have discharged their duties
with courage and dedication, and sacrificed their lives to defend the lives and property of our people from the ULA/AA terrorist group, who have been engaged in destructive activities at this time when the Government, the people and well-wishers are all engaged in endeavours for the prevention, containment and cure of COVID-19," read the statement.

The United League of Arakan, or ULA, is the political wing of the Arakan Army.

"The Union Government is resolved to continue with efforts to take the peace process, which aims at putting an end to the sufferings imposed by conflict on our people, to a successful conclusion," the statement concluded.

It was released after a vehicle marked with the World Health Organization's emblem came under attack on April 20 in Minbya Township, Arakan State. A local WHO staff member was killed in the attack, and another was injured.

The vehicle was transporting swab samples for COVID-19 testing at the National Health Laboratory in Yangon when it was fired upon. Both the Tatmadaw and the Arakan Army have denied responsibility for the attack and instead blamed each other — an exercise in mutual finger-pointing that has become commonplace in the aftermath of civilian casualties from the conflict in Arakan State.

The government designated the AA a "terrorist group" and unlawful association on March 23, with hostilities between the Tatmadaw and the ethnic armed group intensifying in the weeks since. The conflict has displaced more than 150,000 civilians, killing and injuring hundreds more.