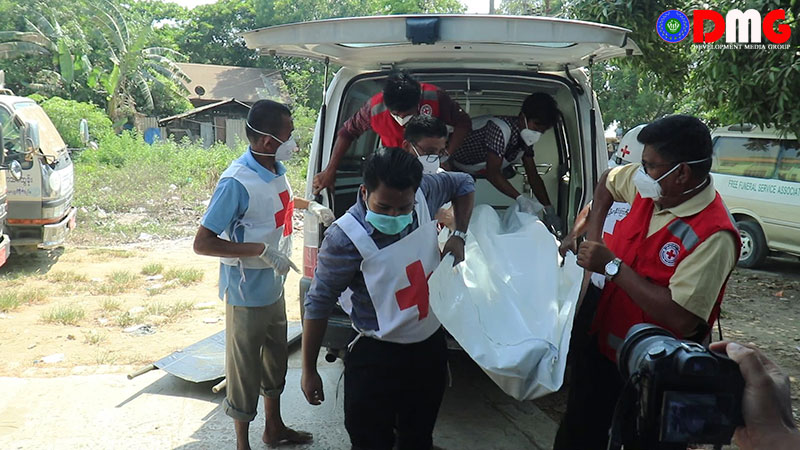 Nay Yaung Min | DMG
April 22, Sittwe

Myanmar's Ministry of Foreign Affairs has vowed an investigation into an attack that led to the death of a local World Health Organization (WHO) employee early this week in Minbya Township, Arakan State.
In a statement, the ministry expressed condolences to the UN, the WHO and the family of U Pyae Sone Win Maung, who was fatally shot while riding in a vehicle bearing the WHO emblem near Rar Maung Bridge on April 20.
"The Government deeply regrets that such a reprehensible act was perpetrated on a WHO vehicle deployed on a humanitarian mission in support of the unyielding efforts of the Government of Myanmar to fight the COVID-19 pandemic," read the statement, which did not explicitly assign blame to either of the warring parties operating in the region but later made oblique reference to "the challenge posed by armed groups."
"The Government is fully committed to investigate the incident and to prevent recurrence of such abhorrent acts," the statement concluded.
The WHO vehicle was transporting swab samples from suspected COVID-19 patients to the National Laboratory in Yangon when it was hit by gunfire at one end of the Rar Maung Bridge, close to Rar Maung Zet jetty in Minbya Township. In addition to fatally wounding U Pyae Sone Win Maung, health supervisor U Aung Myo Oo, who was also in the vehicle, was injured in the attack.
The US Embassy in Yangon has urged authorities to carry out a full investigation into the incident in order for the perpetrators to be brought to justice.
Though the Ministry of Foreign Affairs statement did not mention which side had attacked the WHO vehicle, state-run newspapers and the Tatmadaw had no such reservations in claiming that the casualties were the result of small arms fire from the Arakan Army.
The Arakanese ethnic armed group, on the other hand, has blamed the Tatmadaw, saying the two men were hit by gunfire from a Tatmadaw base located at the head of the Rar Maung Bridge.
Daw Khin Saw Wai, a lawmaker for Rathedaung Township, earlier told DMG that she welcomed a separate UN probe into the deadly shooting, adding that media restrictions in the region should be lifted in order to determine what actually happened.
"The same is true of preceding events. In places where there is no fighting, one side shoots and people die. Then the only answer is that no one is responsible, no one did it. It is essential to find out what really happened," she said. "And for this to happen it is necessary for current media restrictions to be lifted."
Since December 2018, fighting between the AA and the Tatmadaw has resulted in hundreds of civilian casualties. There are currently over 150,000 people displaced due to the conflict, according to the Rakhine Ethnics Congress (REC) on March 31.