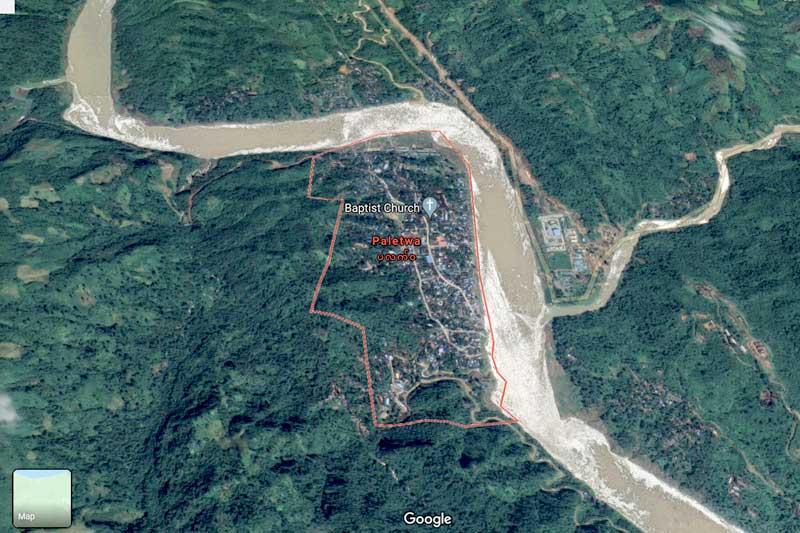 Win Nyunt | DMG
April 23, Sittwe
 
Four people were killed and six were injured by heavy weapons fire on April 22 in Paletwa Township, Chin State, according to organisations that assist internally displaced people (IDPs) in the region.
 
Locals said clashes between the Tatmadaw and the Arakan Army (AA) occurred throughout the day near Mee Latwa and Shinwa villages. Chin State government spokesperson U Soe Htike told DMG that the heavy weapons fire that killed the civilians was due to these hostilities.
 
The Tatmadaw stated that a stray shell exploded in back of a Myanma Economic Bank branch in Paletwa town, killing 25-year-old Daw Aye Thandar, the wife of a bank cashier, and their 4-year-old daughter Ma Lei Lei, as well as Mg Lu Aye, the 22-year-old son of a bank security guard.
 
Bank supervisor U Hla Thein Maung and deputy supervisor U Law Har Tint were also injured in the blast.
 
"The shell landed in the employee housing area situated at the back of the bank. We don't know which group fired it," said Ma Mia Nang Wai, spokesperson for the Relief and Rehabilitation Committee for Chin IDPs (RRCCI).
 
In its statement, the Tatmadaw said AA soldiers opened fire on Paletwa with small arms and heavy weapons from a hilltop stupa about 600 metres from the town, resulting in the casualties at the bank.
 
In recent weeks, multiple media outlets that have used the AA as a source in their reporting have faced charges under the Counter-Terrorism Law. As such, at this time DMG is opting not to contact the AA for comment regarding the Tatmadaw's accusation.
A 49-year-old woman from Ywarma ward in Paletwa town, Daw Than Than Win, was also killed on Wednesday in a separate artillery strike.
 
Paletwa local Ko Min Tun Aung said that elsewhere, two men and a child were injured in Mee Latwa village, while a 2-year-old child was injured in Shinwa village due to Wednesday's clashes.
 
Fighting between the Tatmadaw and the AA has resulted in hundreds of civilian casualties in southern Chin State and Arakan State over the past year.