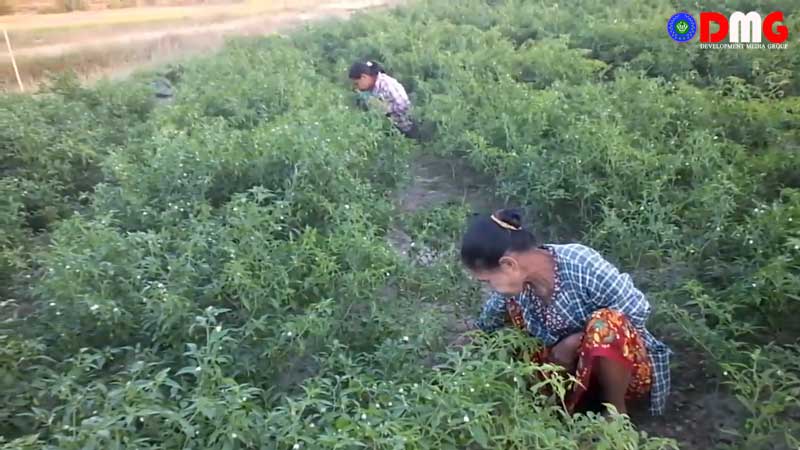 Aung Kaung Zaw | DMG
April 23, Manaung
Local farmers in Manaung Township are concerned that the price for winter crops will decline because traders from other parts of Myanmar are unable to travel freely to Arakan State due to the COVID-19 pandemic.
Peanut, matpe and cashew nut are the main winter crops cultivated in the Manaung area, where there are currently no external traders due to travel restrictions and only a few local buyers for the crops.
"Now the trading channels are closed so we are worried that the peanut price will decline. It is still at a normal price but there are no buyers yet. We've just sold to some peanut oil workshops. We are concerned that the price will drop if the traders don't come to us at the end of this month," said U Nyi Lay, who grows peanuts in Khone Khin village.
Peanut traders said prices haven't dropped yet, with a bag of peanuts selling for between K13,000 and K15,000.
"Currently, the price is normal and the same as last year," said U Nyi Win Sein, a peanut trader. "We cannot say for sure whether the price will drop or not."
He added that fewer people have been growing peanuts in Manaung Township due to declining rainfall, which has deprived the soil of the moisture needed to cultivate the crop.
The price for cashew nuts, meanwhile, has halved compared with last year, according to cultivators.
Daw Ma Nge, who grows cashew nuts on a plantation in Manaung Township, said they sold a viss (3.6 lbs) of cashews for K1,600 last year but this year the price had dropped to K800.
"We heard that the price will increase. The current price is not OK for us," she said.
A total of 80 acres of matpe has been grown this year in Manaung Township and is ready for harvest.
Farmers in Manaung normally grow paddy in the rainy season and crops such as peanut, matpe and cashew nut in the preceding winter months. This year, however, they are concerned that they will not be able to repay debt that they took on for paddy growing if their winter crops don't fetch a good price.