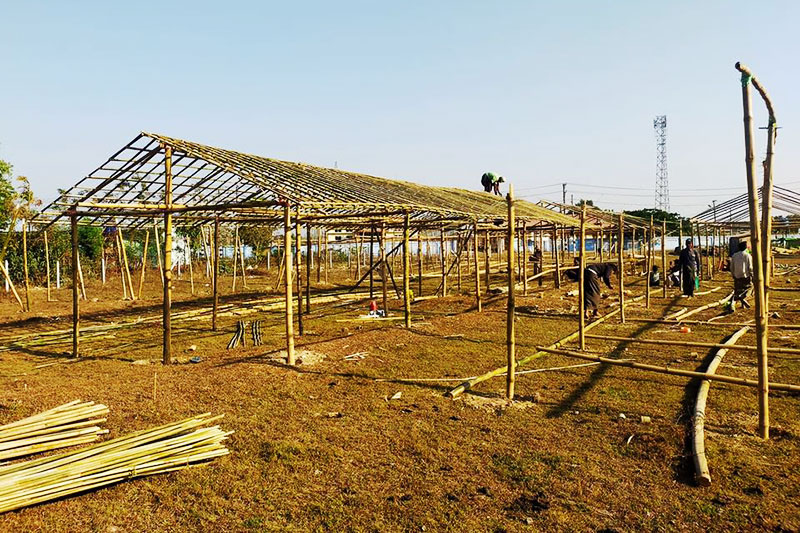 Myo Thiri Kyaw | DMG
April 30, Sittwe

Dwellings in poor condition at camps for internally displaced people (IDPs) in Arakan State are being repaired with donated cash as the rainy season draws nearer, according to those assisting the displaced.
Ko Bakar, who helps IDPs in Rathedaung Township, said displacement camps in the area were set up in early 2019 and the settlements' makeshift housing is now in varying states of disrepair.
With monsoon rains expected to soon be a feature of daily life, there is an urgency to the task of repairing or replacing these structures, he said, adding that donations were being collected from villages in the surrounding areas.
"We are trying hard to raise money as we don't have any money," Ko Bakar said. "We are having to ask for money from people who live overseas. We have to take on that responsibility because the government has ignored them. They just gave the people Mamee noodle packets, which cost K300 [US$0.21]."
People helping IDPs also note that the hardships facing IDPs are less easily shared with the wider world due to the internet ban affecting several Arakan State townships, which in turn results in less assistance from donors.
"The dwellings that are ruined should be fixed this month because the rainy season is coming. But we cannot do that due to financial difficulties," said Ko Khaing Min Shin, who also helps IDPs.
Displaced populations sheltering at schools are also concerned that they will soon face accommodation problems because schools are scheduled to reopen in June.
The Arakan State government constructed seven camps for IDPs but all are empty except one in Ponnagyun Township, which is currently sheltering some 500 IDPs.
According to the Rakhine Ethnics Congress, more than 150,000 IDPs have taken refuge at 120 different places in northern Arakan State, where conflict between the Tatmadaw and the Arakan Army continues to upend lives.