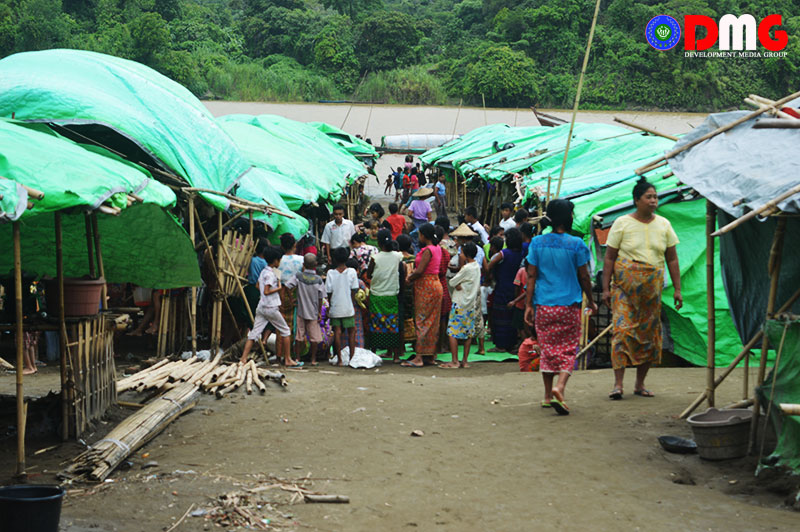 Khin Tharaphy Oo | DMG
May 5, Sittwe

People in Arakan State's IDP camps face a lack of information as well as difficulty following Ministry of Health guidelines concerning protection against COVID-19, according to one camp official.

U Way Hla Aung, who is responsible for the Tin Nyo IDP camp in Mrauk-U Township, explained that the government had provided no education programming nor necessary protective gear in the fight against the deadly virus.

"The government has provided absolutely nothing — no education sessions about coronavirus. And they haven't given any protective equipment either," he said.

A government-imposed internet shutdown in conflict-affected townships has meant that people displaced have found it especially difficult to access government guidelines and information about the virus, U Way Hla Aung said.

Arakan State Public Health Assistant Director Dr. Soe Win Paing explained that while township-wide announcements about disease prevention have been made via loudspeakers, they were unable to carry out education sessions.

"This is because we can't let people gather together in groups, it is not because there are a large number of camps. Government departments in each township have been instructed to carry out education sessions broadcast over loudspeakers each month," he said.

According to U Zaw Htay, spokesperson for the President's Office, measures have been put in place to inform people about COVID-19 in townships where mobile internet is banned. Four mobile operators have been sending text messages informing people about protective measures such as handwashing. Restrictions on people entering and leaving the camps have been put in place to prevent the spread of the disease, he said at a press briefing on May 1.

In some camps, IDP have said they struggle with accessing enough water to wash their hands to mitigate the risk of coronavirus spread.

Ko Zaw Zaw Tun, secretary of the Rakhine Ethnics Congress, explained that an outbreak in the camps was of serious concern and could lead to a mass epidemic.
People are forced to live in cramped conditions in the rows of tents that often characterise the camps, making it impossible to maintain the 3-feet social distancing guidelines specified by the government, he said.

"IDPs are inadequately nourished and many camps have people with malnourishment. If the disease starts to spread, it is possible it will lead to mass death," Zaw Zaw Tun said.

Fighting between the Tatmadaw and the Arakan Army has displaced more than 164,000 civilians, spread out across 128 IDP camps in Arakan State.