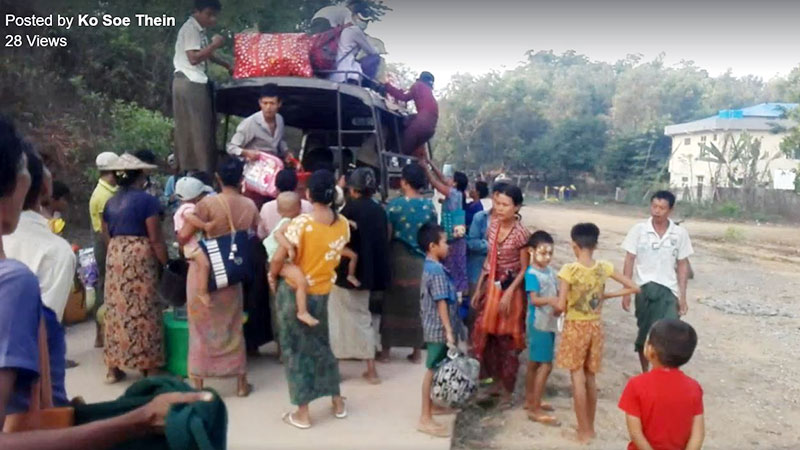 Win Nyunt | DMG
11 May, Sittwe 
About 70 IDPs who left a displacement camp in Ann town five days ago intending to return to their home village of Gate Chaung have not yet reached the village. 
U Khin Win, administrator of Gate Chaung village, said the would-be returnees underwent inspection at the Kazukaing checkpoint on May 7, and still had not arrived at their final destination as of Monday. Security forces manning the checkpoint did not allow them to return home due to regional instability, he said. 
"They are now staying at the [Kazukaing] village school building," U Khin Win said.
The IDPs are running low on food as they have effectively been stranded in Kazukaing village for five days. 
"The security forces said they can go to their village in the next two days. They are now eating the food they have," said U Khin Than Aung, the administrator of Kazukaing village. 
More than 400 people from Gate Chaung village fled to Ann town when a clash broke out near the village in early April. 
The would-be returnees headed back to Gate Chaung because they had heard rumours of plundering in their home village while they were at the IDP camp in the town of Ann. 
IDPs in Arakan State lead difficult lives in displacement camps, where food, shelter and other basic necessities are often in short supply. Most, however, find the hardscrabble existence to be preferable to the uncertain security situations that await them back home. 
The number of people uprooted by conflict in Arakan State has surpassed 164,000, according to the Rakhine Ethnics Congress.