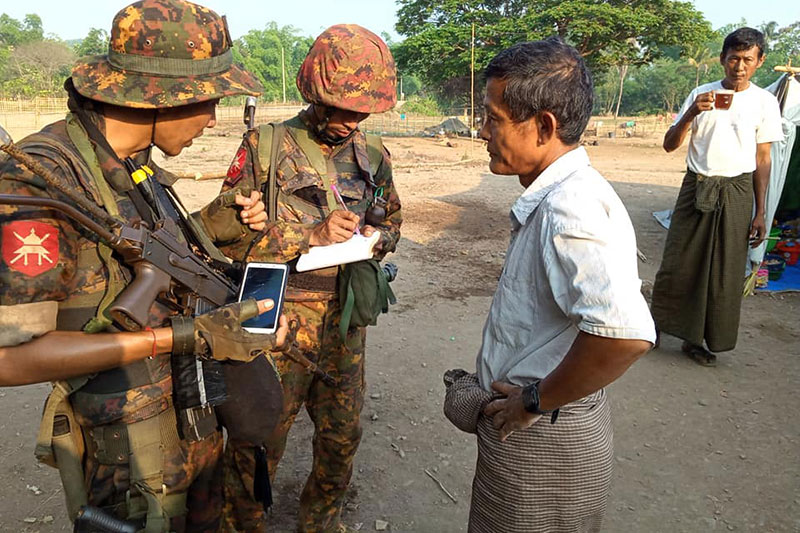 Win Nyunt | DMG
13 May, Sittwe

Tatmadaw troops descended upon the Sanyin IDP camp in Myebon Township on the morning of May 12, according to the camp's manager, who said the discovery of a landmine nearby prompted the incursion.
"They said there are suspect people in the camp because they found a landmine near the camp. I showed them the IDPs' household member list document. The check lasted two hours," said Ko Thura Moe, the Sanyin camp manager.
The Tatmadaw has been telling IDPs to move from the camp since January 25, he added.
"This is the fifth time checking in the camp. According to the condition of the IDPs, it is not possible for them to leave the camp. They do not know where they should go next because they fled from home due to the armed conflict," Ko Thura Moe said.
Tuesday's Tatmadaw sweep of the IDP camp frightened its residents, he added.
DMG phoned the spokesperson for the military's Western Command, Colonel Win Zaw Oo, and the Tatmadaw True News Information Team's Brigadier-General Zaw Min Tun seeking comment on the soldiers' camp visit, but they could not be reached.
The Sanyin IDP camp hosts more than 400 IDPs who fled from Ingyin, Sanyin, Laypyun and Dalet villages.
With conflict between the Tatmadaw and the Arakan Army well into its second year, the number of IDPs in Arakan State has reached more than 164,000, with many struggling to meet basic needs such as food and shelter.