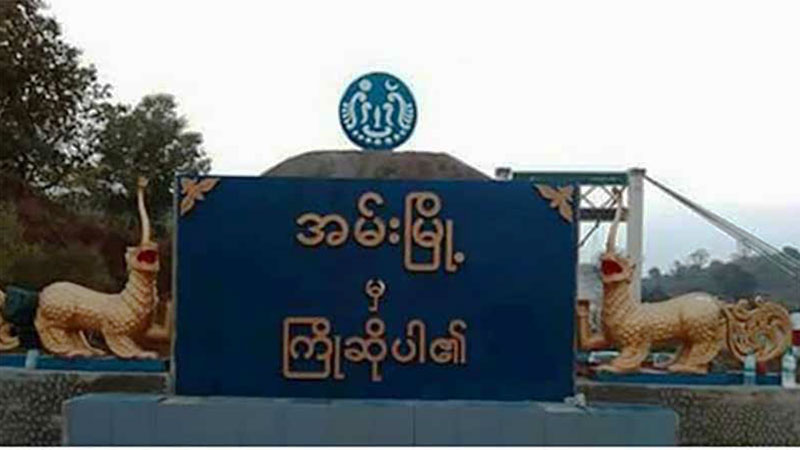 Myo Thiri Kyaw | DMG
20 May, Ann
Four out of 20 people believed to have been detained by authorities this week in Ann Township were released on May 20, according to their family members.
Five people from Darlet A Nauk village and 14 people from Darlet A Lae Kyun village were reportedly arrested on May 18.
Five people including U Tun Khaing, a middle school teacher, were detained while they left for Late Kone village to buy cashew nuts, family members said.
Four of the five people were released on May 20, the wife of one of the men freed told DMG.
"They were abducted by Tatmadaw soldiers. After being detained one night, they were interrogated by police. They were released from detention today. My husband left home to cut bamboo in the forest," said Daw Sandar Win, the wife of U Tun Tun Oo.
The mass detention was preceded by a search party being put together to look for U Myo Naing, a resident of Darlet A Lae Kyun village who went missing on May 17 after leaving home to go fishing at Darlet Creek.
Fifteen people from the village set out on May 18 to find the missing man, but 14 of them were arrested while in two groups searching the local motorway and waterway. One member of the search party, Ko Than Wai, managed to evade arrest.
He said: "We saw the motorboat of the missing man at a bank of the creek. So, we stopped our motorboat. At that time, two men in civilian clothes and speaking Burmese language called us. We were a group of nine people. But I was hiding behind a bush when they told us to come to them."
"Today is the third day they have been detained," Ko Than Wai added. "We haven't gotten contact with the rest of them so far. We are worried that they could be killed because we heard some people went missing and their bodies were found later in Mrauk-U and Ponnagyun."
U Khin Maung Htay, the Pyithu Hluttaw lawmaker for Ann Township, told DMG on May 20 that news of the villagers' arrest was correct, but said he did not have more information about it.
"I heard that 15 people were arrested. I am trying to find out details," he said.