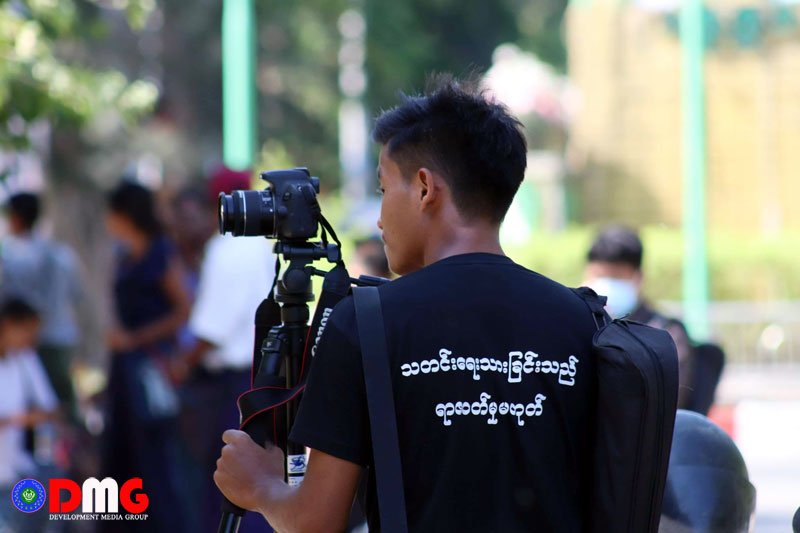 Aung Htun | DMG
May 23, Sittwe
 
As fighting in Arakan State between the Tatmadaw and the Arakan Army (AA) has intensified, both national and foreign journalists are facing increasing challenges in obtaining information to report on the state's affairs.
 
Regionally based media groups are having a difficult time accessing information due to a lack of response from government departments. This is particularly the case in conflict-affected parts of northern Arakan state.
 
According to a journalist from Narinjara, an Arakan-based news outlet, its editor-in-chief currently faces charges under counter-terrorism legislation and as such, government agencies and departments simply refuse to provide a response when contacted for interviews.
 
"Our editor-in-chief at Narinjara is facing charges related to terrorism, so it's difficult when contacting government departments and agencies. They just don't respond anymore because they say that Narinjara is facing terror charges. It is really rather difficult for us journalists to get news and information in this kind of situation," said Ko Ni Min Tun, who works as a reporter for Narinjara.
In March, charges under the 2014 Counter-Terrorism Law were filed against Khaing Mrat Kyaw, Narinjara's editor-in-chief. Three reporters were taken in for questioning at Sittwe's No. 1 Police Station.
And Narinjara is not the only media organisation where government officials or departments have declined to give comment or interview. Development Media Group (DMG) has also experienced refusals.
In early May of last year, the Special Branch police filed charges against DMG's editor-in-chief, Aung Marm Oo, for alleged violations under Section 17/2 of the Unlawful Associations Act.  

Aung Marm Oo has been in hiding since the case was opened against him, and to this day, government departments continue to refuse to respond to interview requests made by DMG due to the charges Aung Marm Oo faces.

"After the charges were filed against us, we have been completely unable to interview government departments. It is impossible to get confirmation on anything related to any news item. If we can't get confirmation, then it's impossible to produce balanced reporting since we can't give both sides a voice," Aung Marm Oo explained. "Some of the news we get is good from the ground up, but we can't use it because it's one sided. We lose out financially and a huge amount of work and time is wasted."

The secretary of the Myanmar Press Council, U Myint Kyaw, holds similar views concerning government departments' refusal to respond to journalists reporting on Arakan State.

"As I see it, they just don't like what the media writes. It's not the way they want it to be written. Sometimes we need to report news that conflicts with their business interests and bearing that in mind, they won't give us information that will be detrimental to themselves and harm their interests," he said.

"On the one hand, there will be state media. Or an organisation may have [affiliated] media outlets. And from there they are free to publish whatever they desire. But that is not the nature of a truly independent media. Another thing is that free press is not understood like this. Press freedom and the right to access information is not respected," U Myint Kyaw continued.

Fighting between the Tatmadaw and the Arakan Army (AA) in Arakan State is well into its second year, and has impacted the lives of hundreds of thousands of people as civilian casualties continue to mount.

In several of the townships where fighting is taking place, the government has blocked mobile internet services for almost one year.

The situation has become increasingly challenging as journalists face charges under the anti-terrorism legislation or other legal action of dubious merit, according to Arakan State-based DVB reporter Ko Wanna Kwar Nyo.

"Currently, the internet is blocked in Arakan, and the AA has been designated as a terrorist group. This has a huge impact on journalists. There are now even more challenges," he said.

On March 23, the government declared that the AA had been designated as a terrorist organisation. Following the announcement, cases against some media groups have been opened under the Counter-Terrorism Law for communicating with the AA.

Cases have also been filed under counter-terrorism legislation against the editor-in-chief of the Mandalay-based Voice Of Myanmar (VOM), Nay Myo Lin, and the editor-in-chief of Kit Thit Media, Thar Lwin Zaung Htet in Yangon.

In March, the government announced that restrictions would be put in place on accessing websites that were distributing "fake news" and pornographic content. However, the announcement also included bans on accessing websites of some legally registered media groups. The government-issued ban has targeted DMG, Narinjara, Khit Thit, VOM and a number of other independent news agencies.

In her final report as Special Rapporteur on the Situation of Human Rights in Myanmar, Yanghee Lee in March expressed it thusly, summing up the concern of many members of the Myanmar and foreign press: "In the lead-up to and during the elections, particular efforts should be made to widen the space for free and open public debate by all and to seek, receive and impart information. However, despite repeated calls for reform by the Special Rapporteur, the legal framework governing rights to freedom of expression, assembly and association remains inconsistent with international standards and stifles free expression."
She added, "Journalists, activists and others continue to face charges and convictions under laws that criminalise legitimate expression and democratic activity."