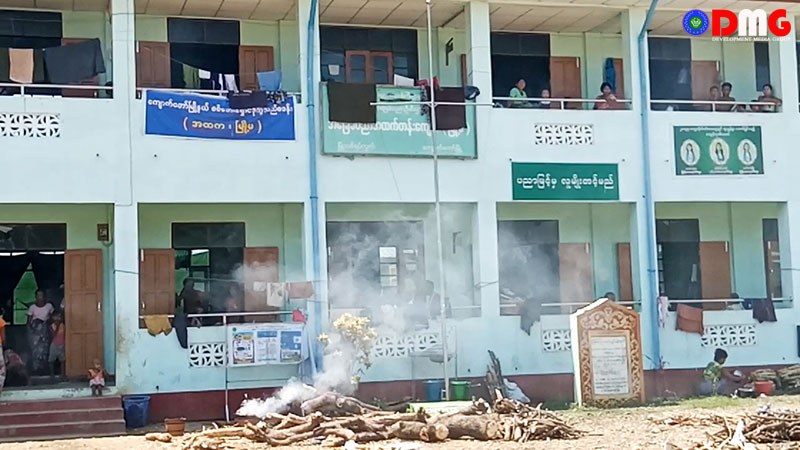 Min Tun| DMG
27 May, Sittwe

Internally displaced people (IDPs) who are sheltering at government school buildings in Arakan State must relocate by June 15, IDP camp managers and MPs have said.
School buildings where IDPs are taking refuge will be handed over to governmental departments at the direction of the state government, the manager of an IDP camp in Kyauktaw Township told DMG.
"Disinfectant will be sprayed at school buildings on June 11 and buildings will be handed over to the relevant department on June 15," said U Maung Win, manager of an IDP camp.
More than 7,600 refugees are taking shelter at 15 IDP camps in Kyauktaw town. Seven of them are at school buildings where more than 3,000 people are taking refuge.
Two IDP camps that were opened at schools in Myebon town have similarly been instructed by the local administrator to relocate in June, camp manager U Aung Myint Thein told DMG.
"There will be many difficulties when we relocate to a new place, especially as far as access to water and having sufficient toilet facilities," he said.
Arrangements are being made to relocate IDPs from school buildings to monasteries, but there are concerns about whether there will be adequate space, given that many monasteries are already sheltering other IDPs.
While the government has ordered the relocation of IDPs from schools, it did not mention how to manage that process, said Arakan State MP U Maung Maung.
The directive said IDPs and people under "facility quarantine" at schools shall be removed and cleaning and the application of disinfectant will take place at the buildings by June 15, before they are handed over to the relevant department, U Maung Maung said.
Conflict between the Arakan Army and the Tatmadaw has displaced more than 164,000 people across Arakan State, with the IDPs staying in schools, monasteries and makeshift, temporary camps, or seeking shelter in the homes of relatives and neighbours.