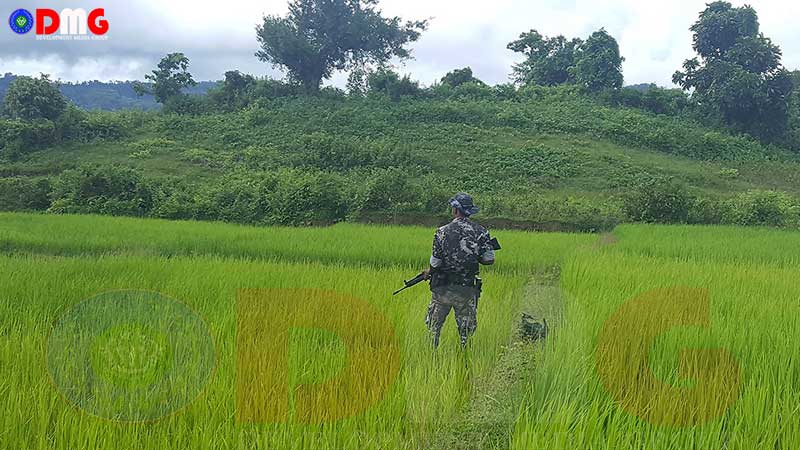 Kyaw Myo Aung | DMG
29 May, Rathedaung
 
The Arakan Army attacked the Thazin Myaing Border Guard Force outpost in Rathedaung Township in the early hours of May 29 and an exchange of fire ensued, residents said.

The Tatmadaw True News Information Team released a statement saying 10 police personnel and three family members including a child went missing during the fighting.

About 100 AA troops attacked with heavy weapons and small arms at about 2 a.m. and the BGF retaliated, the Tatmadaw said. The statement added that police from a neighbouring jurisdiction joined the Thazin Myaing BGF contingent at about 5 a.m. to counter the imbalance of forces, with some members of the reinforcing Karkin Gone police unit also missing in the aftermath.

"The sound of gunfire and heavy weapons was heard at about 2:15 a.m. They exchanged fire and it was quiet at about 5 a.m. After the sunrise, we saw the whole outpost near the cemetery was ablaze. A house was also destroyed by fire," an anonymous villager told DMG.

Thazin Myaing village has about 50 households, and many residents fled to safer locations due to the attack on the BGF outpost, residents said.

Rathedaung Township administrator U Aung Myint Thein confirmed the attack but said he was not informed of specifics.

"The news that a police outpost was attacked is correct. I do not know in detail because it was too far from here. I think the AA attacked the outpost, because the AA have a presence there," he told DMG.

On January 4, 2019, four BGF outposts in Buthidaung Township were attacked by the AA, killing 13 people and injured nine others. Subsequent assaults on police and BGF posts in Arakan State have also resulted in casualties.

The AA has in the past defended its offensives against these targets by saying they were attacked because Tatmadaw personnel had taken up positions at them. Regarding the attack on the Thazin Myaing outpost, the AA has not said anything so far.