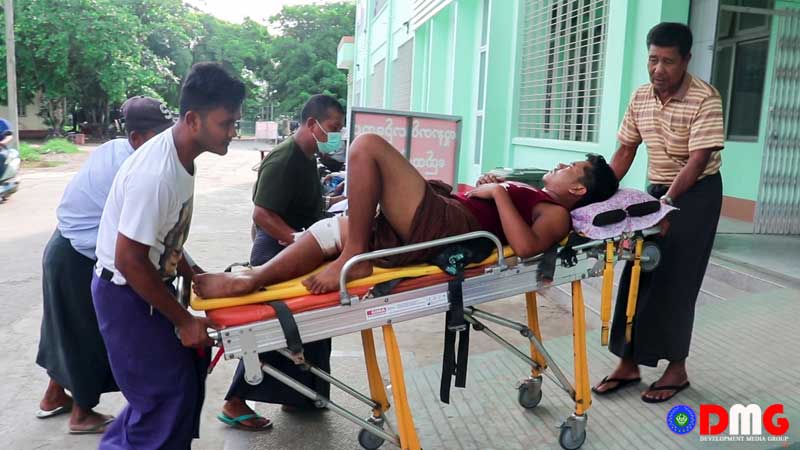 Kyaw Thu Htay | DMG
30 May, Sittwe

For many villagers in Arakan State, there's never been a more dangerous time to earn a living. Those who harvest wood or bamboo, forage for vegetables, engage in hillside cultivation, or otherwise rely on the lands surrounding their villages for livelihood take a risk every time they venture out as landmine encounters evidence increasing militarisation of the region.
Hostilities between the Tatmadaw and the Arakan Army have plagued a growing swath of Arakan State since December 2018. As the conflict has dragged on and at times escalated, the shifting battle lines of a war without easily discernible fronts has left the Arakan State countryside strewn with unexploded ordnance.
And so the landmine casualty count continues to rise.
Two residents of Kan Thit village, Ponnagyun Township, lost their legs after stepping on separate landmines along the Minma mountain range on May 24. The incident has given other villagers in the area pause, said U Kan Tun Aung, a 10-household head of Kan Thit village.
"They are afraid of the risk of landmine explosions. They are struggling for their daily living because they dare not go to their farms outside the village," he told DMG.
Just days later, on May 28, a resident of Shwe Kyan village in Minbya Township sustained severe injuries after stepping on a landmine while he was fishing near the village.
Shwe Kyan administrator U Nyo Maung Thein said villagers are concerned about the risk to life and limb that such everyday activities increasingly pose.
"Villagers need to go to the forest to cut bamboo or dig bamboo shoots for their living. If they cannot do it, they might be in difficulty in their daily life," said U Nyo Maung Thein.
More civilian casualties are likely because landmines are now found near villages, whereas previously they were found far from villages, said U Zaw Zaw Tun, secretary of the Rakhine Ethnics Congress.
He suggested that the government focus on providing landmine risk education to reduce the collateral damage caused by landmines and other unexploded ordnance.Organisations that offer such programming needed to be permitted to do so without restrictions in villages that are often remote and difficult to travel to, U Zaw Zaw Tun added.
Conflict between the Tatmadaw and the Arakan Army in Arakan and southern Chin states has displaced more than 164,000 people and resulted in hundreds of civilian casualties due to landmines, stray heavy weapons and small arms fire, and other combat-adjacent violence.