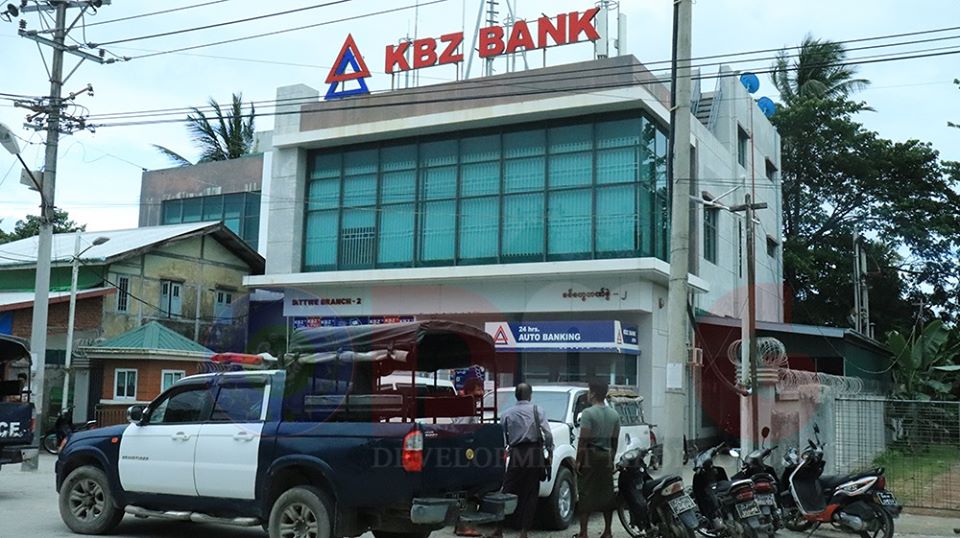 Khaing Roe La | DMG
13 June, Sittwe 
A suspect arrested in connection with a robbery at the Kanbawza (KBZ) Bank branch in Sittwe's Kyaypingyi ward is being held on remand at the township court, according to his family. 
The military says four people wearing masks pulled up to the KBZ branch in a white Hijet vehicle at about 4 p.m. on June 10 and made off with more than K180 million (US$124,000). 
After an ensuing chase, security forces arrested the man now on remand and seized the getaway vehicle, but the three other robbers remain at large and the stolen money was not recovered. 
The detained suspect in the case is Ko Soe Min Tun, a taxi driver from Sittwe's Kontan ward. He was remanded into custody at the Sittwe Township Court on June 11, his wife Daw Tin Tin Win told DMG. 
"The court hearing was set for June 25. We aren't allowed to meet with him yet," she said. "He is being held at No. 1 police station [in Sittwe]. Whenever I send food to him, it must be kept at the gate of the station. I haven't heard any information from him yet. When he was remanded, I missed a chance to talk with him." 
Ko Soe Min Tun's wife said he left home to drive his taxi on the day of the robbery, and the next thing his family heard of him was that he had been arrested. 
"I know he went out to take his taxi and he was arrested near Mee-set junction," she added. 
With regard to the case, DMG went to Sittwe's No. 1 police station to interview Police Captain Aung Mya Oo, the station head, but he said he was busy. 
The robbery has contributed to a sense of growing unease and public safety concerns among residents of the Arakan State capital, where just last month a local administrator was stabbed to death by a group of unidentified assailants. 
Daw Phyu Phyu Than, a local, said: "Cases of stabbings and robberies occur even in urban areas of Sittwe. We aren't living in safety and security. All local people are afraid day after day." 
In November 2019, as officials from Myanma Economic Bank in Kyauktaw Township conveyed a treasury box to a vault at the local police station, two people wearing masks stole more than K200 million.