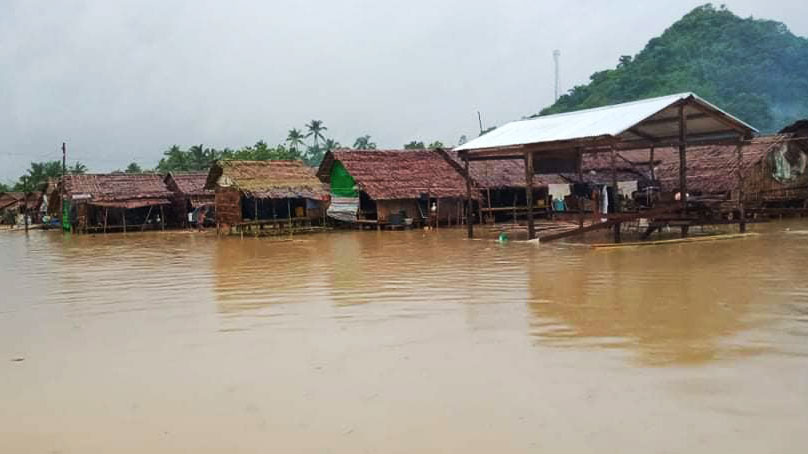 Aung Htein | DMG
18 June, Sittwe

Internally displaced people in Arakan State are getting an early dose of monsoon season misery as recent heavy rains have flooded some IDP camps.

"The huts in Yatchaung IDP camp, where more than 400 people are taking shelter, are under water due to the heavy downpours and high tide of the Yatchaung River," said an official from the camp.

"It is impossible to return to the IDP camps as the floodwater has not receded yet,ေ" said a monk. "The floor is wet because we are staying in the bottom of the monastery. It is not convenient for us to cook food. The pregnant women are in need of healthcare."

Locals from Ywathayar, Dingarya and Meekyaungtet villages in Myebon Township fled to the Yatchaung IDP camp in November of last year. There are 115 dwellings at the camp.

Similarly, IDPs at the Myatanzaung IDP camp in Mrauk-U Township are facing difficulties as the water level is threatening about 150 out of 280 huts, according to the IDPs.

U Maung Aye Kyaw, a victim of the rainy season woes at the Myatazaung IDP camp, said: "The huts are not flooded yet. They are going to be underwater. The situation will become worse if there are heavy downpours."

For many, the monsoon rains are an annual reminder of the preferability of building on high ground. Some IDP camp residents worry that they will face difficulties with basic tasks like cooking during the rainy season, when the risk of waterborne illnesses also rises.

Coastal Arakan State typically gets significantly more rainfall than the national average and often faces flooding. In 2019, flooding in the state affected more than 150,000 people.