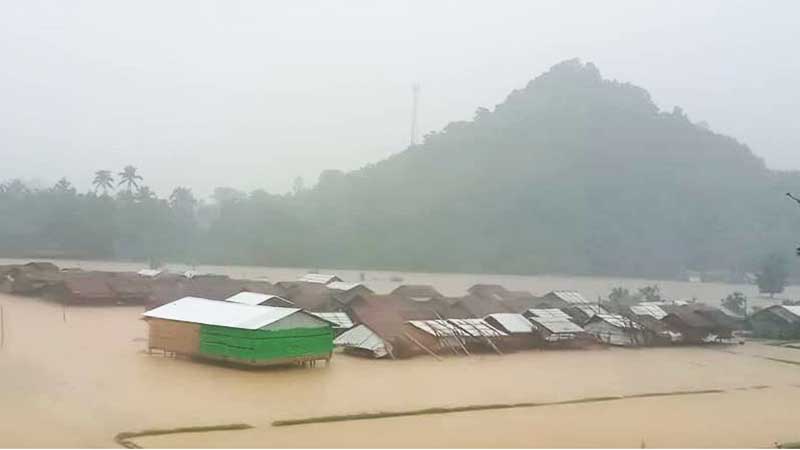 Myat Swe | DMG
6 July, Myebon

Continuous rain in Arakan State led to flooding at Yatchaung IDP camp in Myebon Township and evacuated IDPs, according to officials of the camp.
"It is disturbing when the water level is increasing. The situation is not suitable for women who delivered babies several days ago, children and unhealthy people," said Myadazaung Sayardaw, who is providing help to IDPs.
"Some huts were damaged because of the dash of floodwater," he said.
The mountain torrent entered the camp from 3 p.m. to 11 p.m on July 5, raising the water level to 5 feet and submerging huts, Myadazaung Sayardaw said.
IDPs were evacuated to nearby monasteries and houses, he added.
"Rice, fish paste and some salt provided by donors were washed away, so the camp has faced trouble for food. And there is no place to cook food," the monk said.
The IDP camp is built at a bank of the creek, and flooding occurred due to a raging torrent from the nearby mountain and high tide waters from the creek, IDPs said.
The camp also faced flooding in June.
At present, floodwaters have receded about three and a half feet, but IDPs said they need higher-ground temporary accommodation because they are worried about possible future flooding.
U Khin Kyaw Hlaing, an IDP from Ywar Thar Yar, said: "All shelters were submerged yesterday. Now, the floodwater level has decreased. But floods might occur again if it rains heavily. So, we need a high building where we can stay in case of an emergency during a flood."
The IDP camp is hosting more than 400 people from Ywar Thar Yar, Dingarya and Min Kyaung Tet villages in Myebon Township, and there are 115 shelters in the camp.