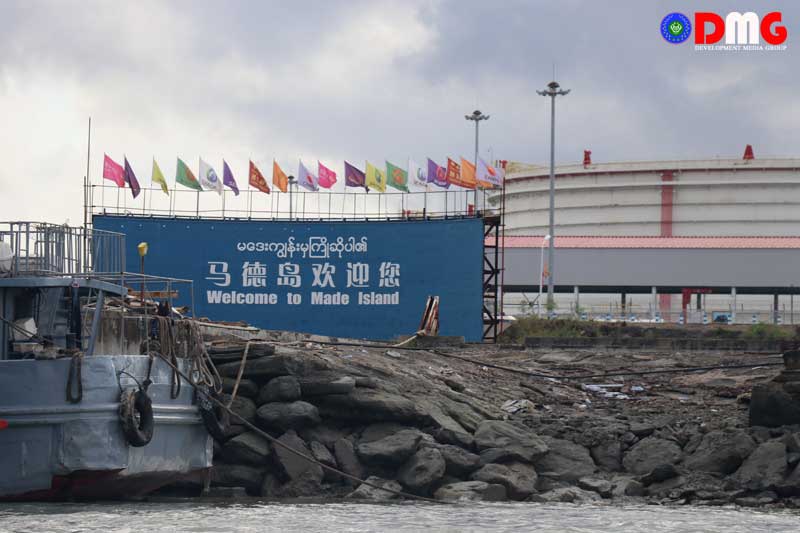 Khaing Roe La | DMG
9 July, Sittwe

Arakan Oil Watch (AOW) issued a report on July 8 calling on international oil corporations to suspend their projects in western Myanmar at a time of escalating conflict that the advocacy group said was being fueled by the "plunder" of the region's natural resources.
The AOW demand comes as the central government has monopolised the profits generated from extractive industries, said Ko Kyaw Khaing, director of the AOW, adding that these projects have not yet benefited local people.
"The main reason is the fights are taking place in Arakan State. The armed conflicts have resulted in civilian casualties. As many as 200,000 people have fled their houses," Ko Kyaw Khaing told DMG. "The AOW calls on the authorities to stop the projects right now as the projects in Arakan State have not brought about any profits to the locals yet."
Currently, companies from China, India and South Korea are implementing several large-scale infrastructure and extractive industries projects including the Shwe oil and gas pipelines, deep-sea port projects in Sittwe and Kyaukphyu, and the Kyaukphyu Special Economic Zone, without the consent of local populations, according to the AOW report.
"Due to these projects, something negative has happened in our Arakan State. Arakan State hardly sees regional development. These projects are under the complete control of the central government," Ko Kyaw Khaing added.
The AOW report, titled "Fuelling Conflict: Investment Exacerbating Turmoil In Western Burma", also highlighted locals' farmland losses and environmental damages in Arakan State as additional problems tied to ongoing foreign investment projects.
The money generated from the Shwe gas and oil project and other extractive industries in Arakan State would amount to providing the government with funds for the purchase of weapons to wage war in Arakan State and other ethnics regions, the report says.
"Western oil corporations are also joining in the plunder," said a press release accompanying the launch of the AOW report. "Since 2014, thirteen foreign oil companies have invested in gas exploration off the Arakan coast, and Australian Woodside Energy and French Total are moving ahead with development plans and billion-dollar deals to export gas to Thailand and China from newly found deposits at offshore block A6 and AD7, the most recent deal signed in December 2019."
Projects like this should be resumed only when hostilities in the region come to an end, the central government reduces its control over Arakan State's natural resources, and a federal system of governance emerges, the AOW contends.
Conflict between the military and the Arakan Army has played out across several townships in Arakan State since December 2018, displacing tens of thousands of people and resulting in hundreds of civilian casualties.