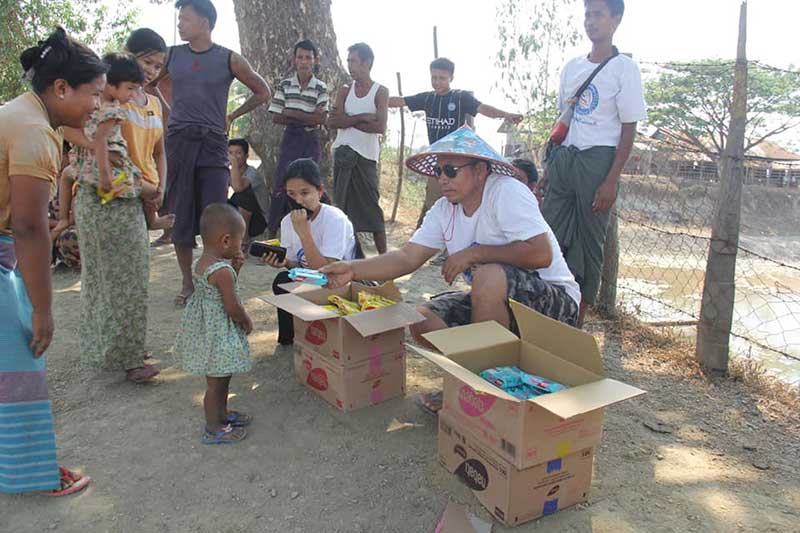 Kyaw Thu Htay | DMG
10 July, Sittwe 
Social organisations in Arakan State are facing difficulties transporting civilians wounded in conflict due to prolonged inspections at checkpoints and also report being hassled when going to IDP camps to distribute donations. 
"Those from social organisations are facing life-threatening situations when they transport patients from the conflict-hit areas. The patients are endangered by the prolonged inspections at the military checkpoints," said Ko Bekka, who is engaged in social work in Rathedaung Township. 
"We cannot carry the patients when there is an emergency in a village. We are in danger. We are afraid of military columns," he added. "The rescue operations face delays as we have to carry the injured only when the military is not present. As it is a conflict-affected area, our lives, patients' lives and the lives of all families are in danger." 
"We have to transport the injured in these areas only with the permission of the Tatmadaw," explained U Nyi Pyu, chair of the Phyusinmyitta philanthropic group. "As the army has banned the use of roads at night, it is a more worrying situation for the emergency patients. We find it difficult to transport the patients to the hospitals as the use of the road is banned at around 6 p.m. We cannot travel freely." 
Philanthropic organisations also worry that they may get inspected and arrested when they go to IDP camps for donations, said Ko Ann Thar Gyi, chair of Thingaha Kan Lat Rakhita Group. 
"It is OK only for the transport of relief supplies to Minbya Township. We may get inspected on the way to other townships. The army treats philanthropic people as those who come to drop bombs. We may get arrested and inspected," he added. 
Social organisations want military personnel not to carry out lengthy checks on the transport of emergency patients and the distribution of relief supplies to IDP camps. 
On May 21, the Arakan State legislature approved a proposal urging the government to ensure that the organisations can freely provide humanitarian assistance and healthcare to civilians injured in hostilities. That same day, Arakan State Minister for Security and Border Affairs Colonel Min Than told the state parliament that arrangements were being made to smooth the transport of emergency patients wounded in conflict. 
Due to ongoing hostilities between the Tatmadaw and the Arakan Army (AA), civilian casualties continue to rise in Arakan and southern Chin states. The Rakhine Ethnics Congress on July 7 said the number of IDPs in Arakan State had risen to more than 190,000.