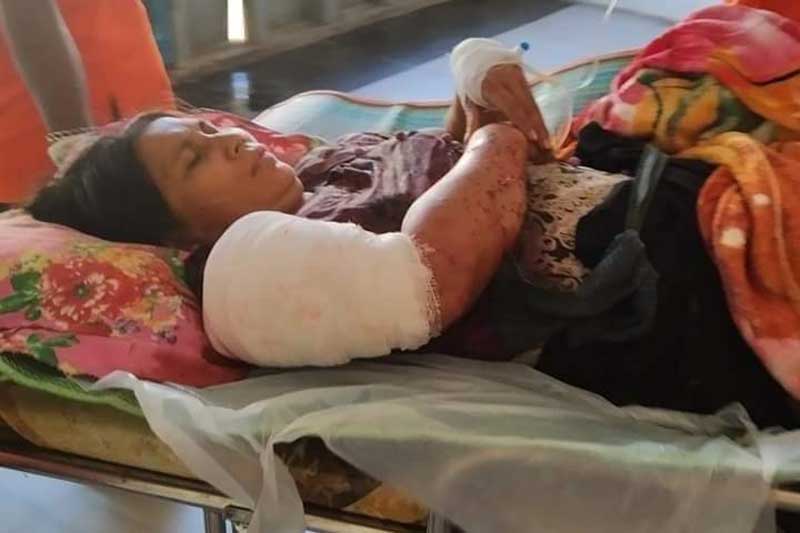 Aung Htein | DMG
11 July, Rathedaung

Two women from Aung Bala village in Arakan State's Rathedaung Township were injured by stray bullets fired by the Myanmar Army on July 11, according to family members of the victims.

The two women were wounded in their homes at about 2:30 p.m., when a 60-strong military contingent opened fire on the village indiscriminately after returning from neighbouring Angu Maw village, said family members of the victims.

Daw Oo Than Khin, 39, sustained a severe gunshot wound to her right arm while another woman, 48-year-old Daw Ma Than Win, sustained a minor calf injury in the incident.

"Security personnel from the military opened fire on the homes and bullets penetrated the homes' walls. Daw Oo Than Khin lost one of her arms and my wife received a gunshot wound to her left calf," said U Thein Sein Tun, husband of Daw Ma Than Win.

Of the two victims, Daw Oo Than Khin is said to be in critical condition and was transferred to Sittwe Hospital while Daw Ma Than Win is receiving medical treatment in the village as her condition is considered not life-threatening.

DMG contacted Brig-Gen Zaw Min Tun from the Tatmadaw True News Information Team seeking comment on the incident, but he could not be reached.

Local residents are worried about their safety following the incident, village administrator U San Aye Kyaw told DMG.

"Villagers are hiding in their homes and no one dares go outside. I am concerned for my safety. I requested that villagers not flee because homes in the village will likely be torched by the Myanmar Army if they run away," he added.