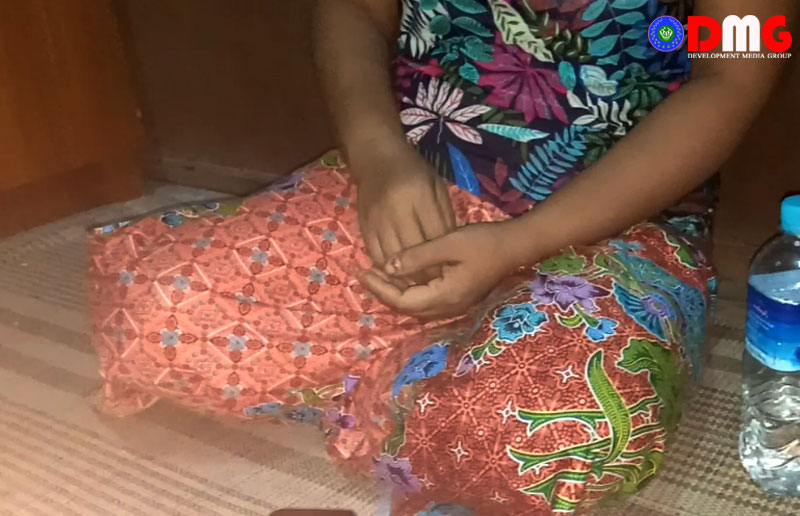 Khaing Roe La | DMG
11 July, Sittwe

A 37-year-old woman from U Gar village in Rathedaung Township, Arakan State, has filed a lawsuit at the Sittwe Myoma police station against three members of the Myanmar Army over an alleged rape.

"The reason why I filed a complaint is I want justice. I would testify to the truth bravely. But I am worried about the safety of my family, including myself," the mother of four children told reporters after filing the case on July 10.

A Tatmadaw battalion entered U Gar village at about 6 p.m. on June 29 and found the woman and her relatives hiding in their home of bomb shelter during what the military described as a "clearance operation" against Arakan Army troops in the area. The soldiers threatened the woman by pointing their guns at her and raped her in a nearby house, she said.

"They told me I had to give them either my life or my body. They said they would kill me if I ran. I tried to run away, but they stopped me. Then they raped me," the woman said.

The three soldiers also intended to rape the victim's 19-year-old daughter, but her mother-in-law begged them not to because the younger woman had given birth just six days prior, she added.

The Sittwe Myoma police station launched an investigation into the case under Section 376, Section 366 and Section 144 of the Code of Criminal Procedure.

The Myanmar military investigated the claims and found the alleged rape of a woman from Rathedaung Township not to be true, however, with the Tatmadaw True News Information Team on July 2 saying the allegation was intended to mislead the public.

Daw Nyo Aye, chairperson of the Rakhine Women Network, said conflict-plagued Arakan State appeared to be an increasingly unsafe environment for women.

"If we don't expose this rape case, we would likely see similar incidents across the country. So we assisted the victim in filing the lawsuit against the rapists," she said.

The results of a medical examination of the rape victim and other evidence were also submitted to the Sittwe Myoma police station, she added.