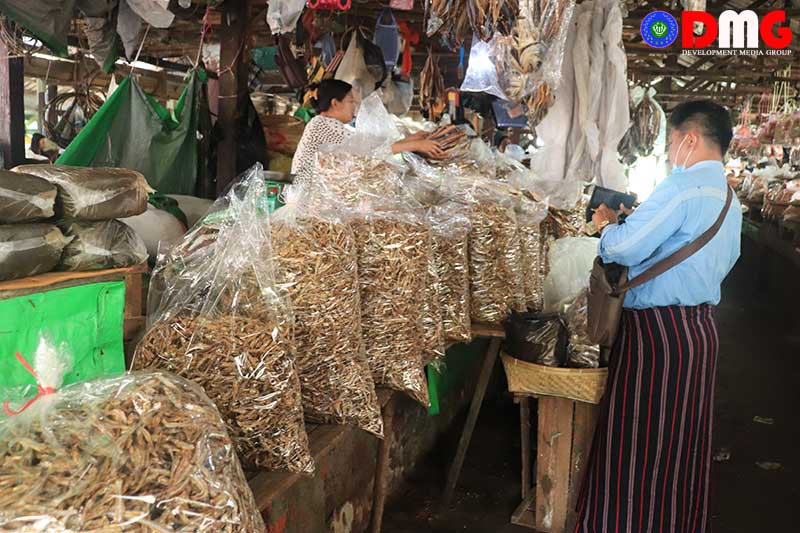 Myo Thiri Kyaw | DMG
14 July, Sittwe 
Sales of dried fish have been on the decline due to lower market demand, according to dried fish merchants in the Arakan State capital Sittwe, who cite adverse conditions including ongoing conflict in the region and the COVID-19 pandemic as reasons for the slump. 
In recent years, residents of outlying Arakan State townships have purchased various dried fish products from merchants in Sittwe for consumption during the rainy season. But the number of buyers in Arakan State has decreased significantly due to conflict and travel barriers related both to the hostilities and COVID-19, dried fish suppliers from Sittwe say. 
"Previously, dried fish from Sittwe have sold well in the markets, which were crowded with shoppers. The markets are now not packed with shoppers due to armed conflicts and the COVID-19 pandemic," said Daw San San Thein, a dried fish monger at the Sittwe Myoma Market. 
In addition to the sales drop, the prices of dried shrimp and nga ni tu (small dried fish) have fallen below normal levels, she added. 
The price of dried shrimp has decreased by K5,000 (US$3.45) per viss and is now K30,000 per viss in the Sittwe market. The price for nga ni tu is reduced to K5,000 per viss from K8,000 per viss. 
The number of people traveling to Sittwe to trade commodities has also reportedly decreased when compared with previous years.  
Vendors report facing financial losses as some dried fish are found moulding as they sit unpurchased, said Daw Swe Swe Thein, a dried fish merchant from Sittwe. 
"My daily income is above 10,000 [kyats] but isn't suitable for my family consisting of many members. Expenses are much bigger than income. Some people no longer want to sell dried fish," she said. 
Worsening security conditions have affected the Arakan State fishing industry in other ways, including the Department of Fisheries reporting difficulties in granting fishing licenses to local anglers. 
There are nearly 200,000 IDPs in Arakan State due to ongoing conflict between the military and the Arakan Army, with scores of civilians injured or killed.