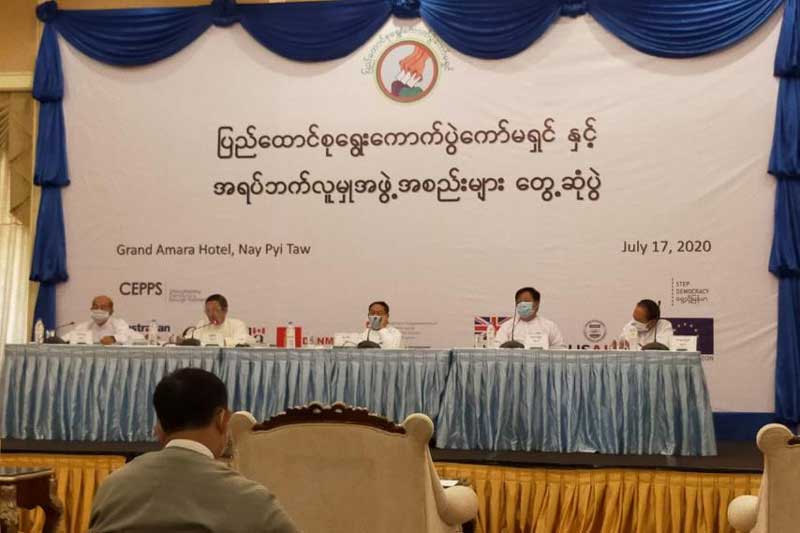 Min Tun | DMG
18 July, Sittwe

Myanmar's Union Election Commission (UEC) will reportedly hold talks with concerned officials about restoring internet access in Arakan State ahead of the 2020 general election.

The UEC chairman made the remarks during a meeting between the government-appointed commission and civil society organisations in Nay Pyi Taw on July 17, said Ko Min Bar Chay, leader of the Arakan Youth New Generation Network.

"Internet access has been blocked in Arakan State amid the ongoing coronavirus pandemic. UEC Chairman U Hla Thein said the electoral body will issue a statement after negotiating with concerned officials over restoring internet access in Arakan State as the upcoming general election draws near," he said.

The UEC said it cannot conduct awareness campaigns about the upcoming election in some parts of Arakan State where security issues restrict movement or access. But the commission has been involved in these activities in some Arakan State townships where security is less of a concern.

The UEC claimed it is also making the necessary preparations for victims of conflict who have fled their homes in order to help them cast their ballots, Ko Min Bar Chay said.

"UEC officials said they have already made preparations for the displaced people for voting in the election but didn't elaborate on the plan in detail. I am not satisfied with what they said," he added.

The 2020 general election is slated to be held nationwide on November 8. Ongoing hostilities between the military and the Arakan Army in western Myanmar have raised concerns about the ability to safely hold the vote across all 17 of Arakan State's townships.