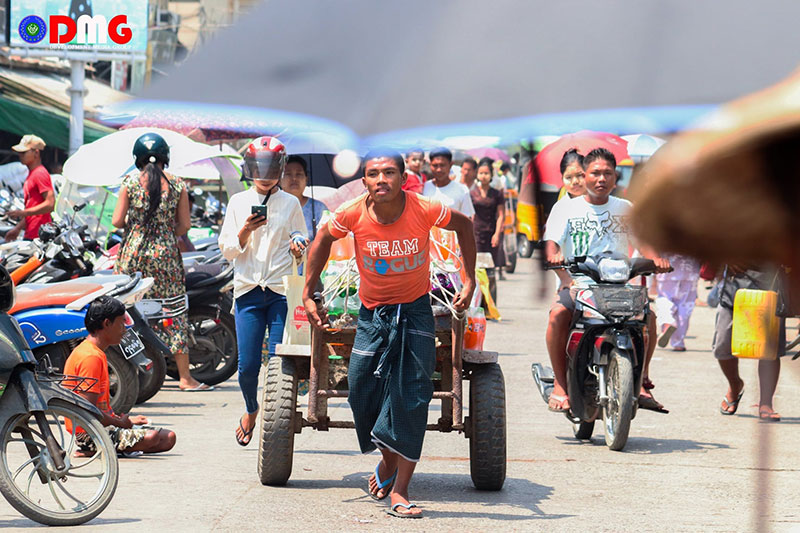 Win Nyunt | DMG
31 July, Sittwe 
Arakanese businesspeople say commodity flows and trade have declined as the COVID-19 pandemic has brought an economic downturn in Arakan State much as it has nationwide and globally. 
U Khin Maung Gyi, vice chairman of Rakhine Economic Initiative Public Co., Ltd. (REIC), remarked that paddy trading, the fisheries sector and other businesses that form the lifeblood of the Arakan State economy have declined precipitously during the pandemic. 
"At least 50 percent of commodity flows and trading declined during the period of the pandemic," said U Khin Maung Gyi. 
Illustrative of wider trends, border trade camps in Maungdaw and Sittwe have had operations suspended due to the deadly virus. 
With the abrupt halt to trade at the border camps, goods offered by Bangladesh were left in limbo and some perishables were spoilt, said U Tin Aung Oo, chairman of the Rakhine State Chambers of Commerce and Industry (RSCCI). 
"We are in difficulty due to the sudden suspension at the border gates. As merchants from Bangladesh gave offers to buy goods, we have stockpiled them. Foodstuffs among the goods were damaged," he said. 
Vendors have faced losses because there are fewer buyers purchasing less in the COVID-19 era, according to vendors from Sittwe. 
"We can't fulfill basic needs of a family as we have low demand from buyers," said Ko Tun Aung Maung, a vendor from Myoma Market in Sittwe. 
Through July 30, 16 people had tested positive for COVID-19 in Arakan State, eight of whom were discharged from the hospital after recovering. 
In addition to the impacts of COVID-19, businesses have suffered from the effects of conflict in the state for the better part of two years.