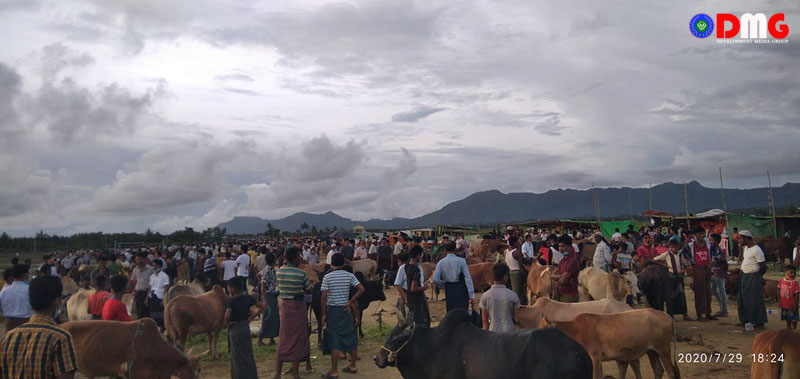 Kyaw Myo Aung | DMG
31 July, Maungdaw 
A crowd amassed in a Maungdaw Township ward on Friday as thousands of Muslims turned up to purchase cows for Eid al-Adha despite instructions from the Ministry of Health and Sports to avoid large gatherings during the COVID-19 pandemic. 
Cows were sold at a field in Kanyindan ward from July 29-31 for the annual Islamic celebration, which traditionally includes the ritual sacrifice of cattle. 
Some Maungdaw town residents have expressed concern about the spread of coronavirus as the majority of cattle buyers — and reportedly numerous spectators among the crowd — did not wear facemasks.  
"The cow market with such a crowd should not have been opened because the Ministry of Health and Sports has extended the order to avoid crowds for the next 15 days," said Ko Tun Thein, a resident of Maungdaw. "Schools can open for high school classes only at the moment. They are coming from different villages. There might be illegal returnees in the crowd." 
U Win Naing, secretary of a COVID-19 prevention committee in Maungdaw Township, said the crowd was made up mostly of people who came to see the animals, not buyers. 
"Opening the cow market is worrying for the spread of COVID-19. But the relevant authorities allowed it," he said. "We announced in their language to remind them to wear masks, to have social distance and to avoid crowding. Most of the people in the crowd are not buyers. For every one buyer, about 20 other people just came to see the cows." 
Maungdaw District administrator U Soe Aung said the General Administration Department has instructed that cow markets opened for Eid al-Adha be in compliance with the health guidelines issued by the Ministry of Health and Sports. 
"The market was officially opened with a permit from the township municipal affairs committee. We instruct [market organisers] to follow the health guidelines. We will not take action regarding the crowd," he said. 
State and regional authorities have in the past used the Natural Disaster Management Law to bring charges against those violating national or local COVID-19 directives. 
Through July 30, 16 people had tested positive for COVID-19 in Arakan State, eight of whom were discharged from the hospital after recovering.