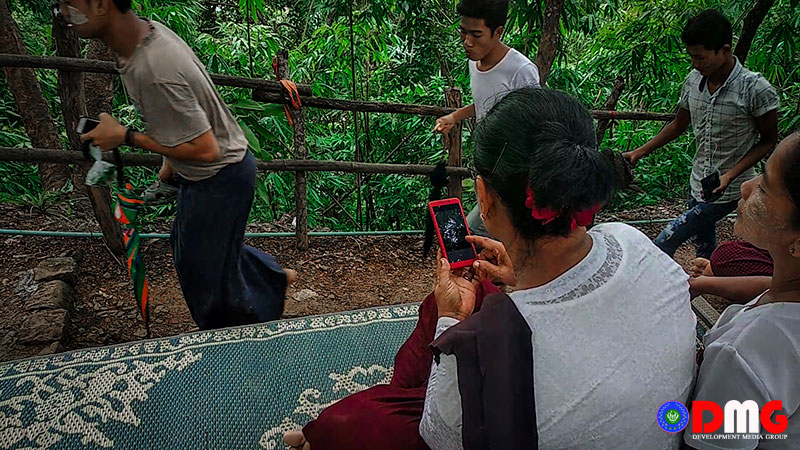 Myo Thiri Kyaw | DMG
2 August, Sittwe
Mobile internet connectivity that had been cut off for more than a year in seven Arakan State townships and Paletwa Township, Chin State, was restored on August 1, according to residents of the affected townships.
They said mobile operators notified users at about 10 p.m. on Saturday night.
The ban was lifted in the Arakan State townships of Buthidaung, Ponnagyun, Kyauktaw, Rathedaung, Mrauk-U, Minbya and Myebon, and Chin State's southernmost territory, Paletwa Township.
U Tun Tin Aung from the town of Paletwa said the internet ban was lifted but that it was a slower and less reliable network compared with what mobile internet users elsewhere in the country enjoyed.
"As the internet connection is not good, we cannot open photo files. When we complain to the call center about the poor connection, we are told that the government restored the internet but with 2G technology," he said.
Ko Bekka, a resident of Rathedaung Township, said the government lifted the internet ban but it was not convenient to use it.
"I want to request to be provided network coverage with standard frequency because data transfer rates are so slow now. The data we send is not successful and we cannot open photos. It has been loading for a long time," he said.
Khaing Kaung San, director of the Wan Lark Foundation, said the restoration of internet access might be due to Myanmar's upcoming general election, or it may have been the result of local and foreign organisations' demands.
"Social networks are used to conduct the activities of political parties for the 2020 election. So, the government needs to immediately support 4G networks," he said.
The government imposed the internet ban in the affected townships, as well as Arakan State's Maungdaw Township, on June 21, 2019. Authorities have maintained throughout the months-long internet blackout that it was necessary to stymie coordination of anti-government forces in the region, which has been plagued by conflict between the military and the Arakan Army since December 2018.
Some of the affected townships previously saw the ban lifted on September 1, only to see it again shut down on February 3. Internet access was restored in Maungdaw Township on May 2.
The restoration of mobile internet to the rest of western Myanmar late Saturday followed a dogged campaign by advocates of free expression and human rights, who demanded an end to the prolonged internet blackout. Several activists have faced legal action under the Peaceful Assembly Law for their protests against the shutdown.
In addition to local opposition, international organisations and foreign embassies had joined in calls for the internet to be restored. In June of this year, Human Rights Watch urged an end to "the world's longest government-enforced internet shutdown," adding: "With armed conflict between the Myanmar military and Arakan Army in Rakhine [Arakan] State amid a pandemic, it's critical for civilians to get the information needed to stay safe."