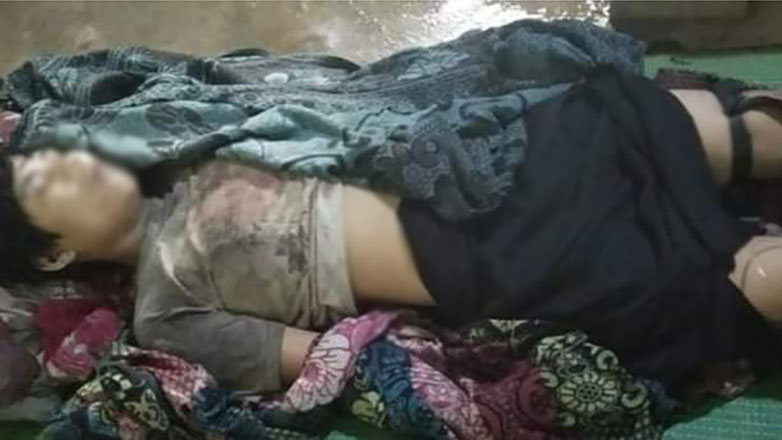 Hnin New | DMG
4 August, Sittwe

A teenage girl was killed in a landmine explosion near a military checkpoint in Ann Township's Kazu Kaing village on August 3, according to a local administrator and residents.

The 17-year-old victim from Kazu Kaing village, identified as Ma Wa Thone, initially lost her left leg after stepping on a landmine about 100 metres east of the village at around 7 a.m. on Monday, residents said. The victim succumbed to her wounds on the way to Ann Hospital, said Kazu Kaing village-tract administrator U Khin Than Aung.

"Upon receiving information about the death of the victim, I went to Ann Hospital," he told DMG. "The body of the victim was sent to the Ann Hospital mortuary for medical examination and was cremated. There have been frequent landmine explosions in the township. Awareness campaigns about landmine risk education should be conducted in order to prevent local people from similar accidents."

Ko Myo Lwin, a resident of Ann Township, said landmine detonations previously occurred primarily in forested areas or other infrequently trodden places. But locals are now concerned for their safety and dare not go outside as landmine incidents nearer to residential areas are increasing, said Ko Myo Lwin, a resident of Ann Township.

"Rural people who earn their living by farming dare not go to their fields in fear of landmines. Local people are worried about their safety as the teenage girl died when she stepped on a landmine near her house while taking a walk," he added.

Two villagers were reportedly killed and one other seriously injured in separate landmine blasts near Jade Chaung village, also in the Kazu Kaing village-tract, on July 29.

Local people have said that these days they are worried about their safety and the risks of working their fields due to increasing landmine encounters and a concomitantly rising death toll. However, they alternatively face livelihood hardship if they forgo cultivation or harvest.

Hostilities between the military and the Arakan Army have flared with regularity in western Myanmar since late 2018, and the number of civilians killed or wounded by landmines, errant artillery fire or other combat-adjacent violence continues to climb.