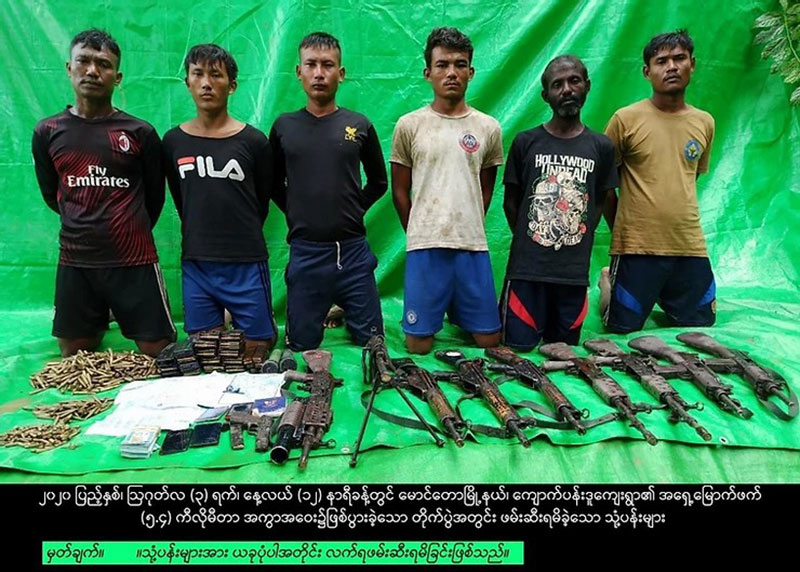 Khaing Roe La | DMG
5 August, Rathedaung

The Arakan Army detained six security personnel and confiscated weapons after the ethnic armed group clashed with their units near Kyaukpandu village in Maungdaw Township on August 3, the AA said in a statement on August 4.

The detained security personnel were identified as being from the military's Buthidaung-based Light Infantry Regiment No. 263 along with officers from a local border guard police battalion, according to the AA's statement.

Hostilities broke out between the military and Arakan Army on the Indin-Zedinpyin Road along the Mayyu mountain range, which serves as a border between Rathedaung and Maungdaw townships, on August 2-3.

The AA reportedly ambushed security members on Indin Mountain Crossing Road on the Mayu Mountain Range on August 3, killing some security personnel and an immigration officer, the Tatmadaw True News Information Team said in a press release.

Security personnel came under attack while performing what it described as "law enforcement activities" in the area, the military's public relations outfit said.

According to the AA statement, at least 16 security personnel and border guard police members were killed in the attacks.

DMG phoned the spokespeople for the Tatmadaw True News Information Team seeking comment on the Arakan Army's statement, but they could not be reached.