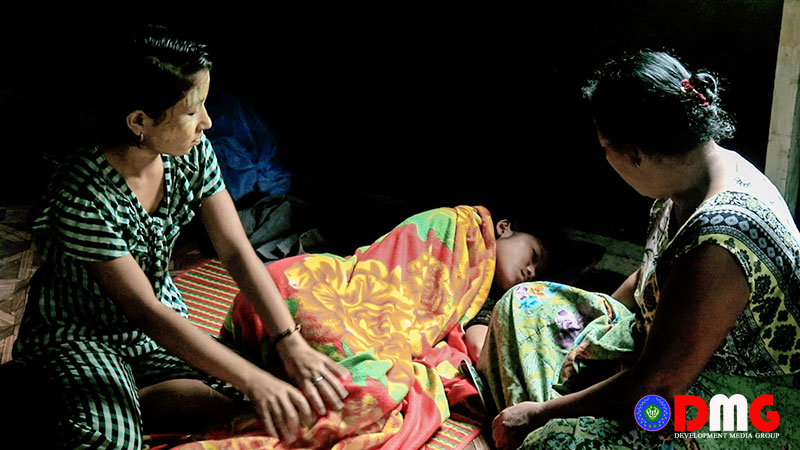 Hnin Nwe | DMG
11 August, Sittwe 
Outbreaks of influenza, diarrhoea and other illnesses have been reported at some camps for internally displaced people (IDPs) in Arakan State as the rainy season takes its toll on those uprooted by conflict. 
Many of the students taking shelter at Pyitawpyan Monastery in Sittwe are reportedly suffering from health problems. 
"Since July 15, more than 20 students from the Pyitawpyan Monastery have suffered from eye disease and diarrhoea," said Ko Tun Hlaing, the treasurer of an association providing educational assistance to IDPs who cannot otherwise afford to pursue schooling in the Arakan State capital.  
More than 40 students ranging from Grade 8 to Grade 11 are continuing their education at the monastery. 
"Due to rampant mosquito bites here, the students suffer from influenza. Influenza is transmitted from one person to another rapidly. Upon arrival at this place, they have fever, and then suffer from eye disease and diarrhoea. Due to fever, they feel pains and cannot eat their meals," Ko Tun Hlaing said.  
"As there are frequent outbreaks of fever, eye diseases and diarrhoea, the students are in urgent need of healthcare. We want a doctor on call for emergencies, and a philanthropic clinic." 
Maung Buchay, a displaced student from Lekka village in Mrauk-U Township, said: "We can't buy and don't take quality medicine when we feel ill. We want to pursue our learning healthily." 
The displaced students have been staying at the Pyitawpyan Monastery for about a month, drawn to it for the schooling being provided. Most of them are from Lekka village, which was devastated by a fire that broke out in May. 
There are around 200,000 IDPs in Arakan State, 30% of whom are students, according to the estimates of the Rakhine Ethnics Congress.