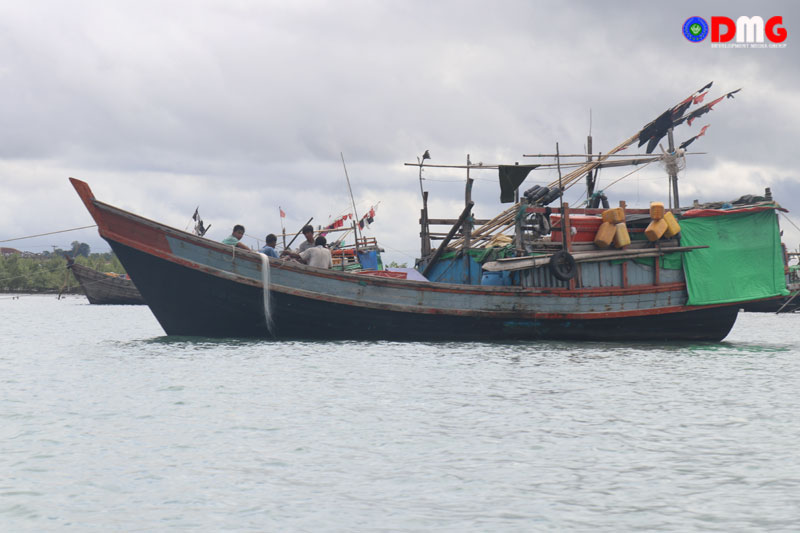 Myo Thiri Kyaw | DMG
11 August, Pauktaw

Riverbank erosion due to heavy seasonal rains and strong currents destroyed three houses recently in Thae Khone village, Pauktaw Township, according to residents.
Another 10 houses along the banks of the Kaladan River at Thae Khone are also at risk of damage due to erosion, villagers said.
"If further big waves come and strike the riverbank, the remaining 10 houses will be destroyed," said U Thein Hlaing, the administrator of Thae Khone village.
The village is located along the Kaladan River east of the Arakan State capital Sittwe and houses at the water's edge face annual challenges to their structural integrity as the river ebbs and flows, U Thein Hlaing said.
Authorities need to build a retaining wall at the riverbank, otherwise erosion will worsen in the coming years, the local administrator added.
The issue of riverbank erosion in the village was submitted for consideration to the Arakan State parliament and authorities responded with a pledge to carry out preventive measures, but nothing has been done so far, according to state lawmaker U Aung Kyaw Htwee, who represents Pauktaw Township.
"Natural disasters cannot be guessed but the village is at risk of destruction in the rainy season. Villagers know the village will be destroyed one day because of the riverbank erosion. So, authorities should conduct field inspections and do something for the village to prevent further riverbank erosion," U Aung Kyaw Htwee told DMG.
The administrator of Pauktaw Township has provided some aid for the three houses that were recently destroyed.
Villagers said religious buildings in Thae Khone were submerged five years ago due to high river waters during the monsoon season.
The village consists of more than 350 households, with residents mainly dependent on fishing for their livelihoods.