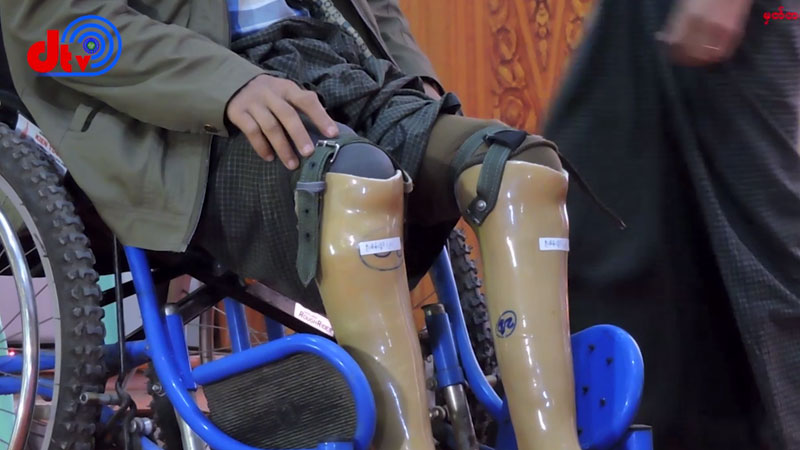 Min Tun | DMG
14 August, Sittwe

The number of voters with disabilities in Arakan State for the 2020 general election stands at about 30,600, according to figures provided by the Arakan State election subcommission.
The figures include 580 visually impaired, 650 people with hearing loss, more than 1,400 physically disabled, more than 260 mentally disabled, and the remainder being people with other forms of disability.
People with disabilities have the right to vote and may face some difficulties during the voting process, noted Ma Win Swe, who struggles with a disability herself.
"Previously, I had transportation difficulties to go to the polling station. I needed one of my siblings to help me," she said. "And we had to queue to vote and I fell to the ground because of pushing in the back by people in the queue. My brother came and helped me to stand again."
The Union Election Commission (UEC) should make special arrangements to accommodate disabled voters on Election Day, said U Hla Myint, chair of the Disabled People's Association in Arakan State.
"The UEC should arrange transportation for disabled persons to be able to return home or to their temporary camps promptly after they vote," he said.
U Thurein Htut, secretary of the Arakan State election subcommission, said the UEC has instructed subcommissions to ensure that people with disabilities are able to vote.
The Shwe Min Thar Foundation (Myanmar) will provide election awareness for people with disabilities at its office in Sittwe to make sure they know to check their names on voter lists and how to vote on election day.
"We will provide training for people with disabilities so that they can vote like a normal person," said Ma Htwee May, in-charge of the Arakan State office of the Shwe Min Tha Foundation.
The training will open in October in Sittwe, but cannot be held in other townships due to security concerns and transportation difficulties, she said.
In total, there are more than 1,640,000 eligible voters in Arakan State. The UEC announced last month that the 2020 general election will be held on November 8.