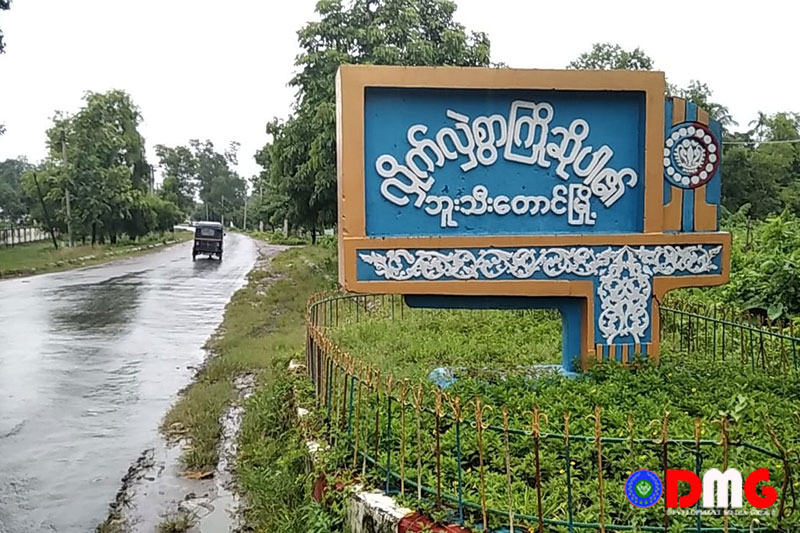 Kyaw Myo Aung | DMG
19 August, Buthidaung

Local people from 25 villages across three village-tracts in Buthidaung Township, Arakan State, are concerned about potential shortages of food.

They are from 12 villages in Linyon village-tract, nine villages in Aurama village-tract and four villages in Pyinchaung village-tract.

Since clashes began, in the area also known as upper Sai Din, between the military and Arakan Army (AA) in mid-2019, local villagers have been unable or unwilling to forage for food in the surrounding forests and hillsides, and have struggled to tend to croplands.

Moreover, restrictions on the transport of foodstuffs in some parts of Arakan State and disruptions to supply lines due to active conflict have exacerbated doubts about food security.

Currently, residents rely on aid from the International Committee of the Red Cross (ICRC), said Ko Mu Kha, the administrator of Linyon village-tract.

"Our villagers don't dare wander the jungles. They are in fear of landmine danger. If they face military columns, they will be arrested. They all lose out on livelihood opportunities. They are waiting for rations from ICRC," he explained.

ICRC provided rations to the 25 villages facing food security issues from mid-2019 to April 2020 but suspended this provisioning in May, June and July, locals said.

"Rations have been lacking for three months. Now, we are cooking porridge as meals. Villagers collect bamboo shoots. Muslims exchange their rice with bamboo shoots," said U Tin Hla, the administrator of Pyinchaung village-tract.

Although ICRC aid is ready to be sent to these villages, the process of transporting the supplies to remote areas has faced delays due to the monsoon season, said an official from the Maungdaw District ICRC office.

"Provision of rations is in continuation but all processes are being undertaken under the guidance of the Health Department during the COVID-19 period," he said.

In recent days, ICRC delivered five tin cans of rice per person as rations for the month, said locals.

"I received rations for a month but have not received it since April. The rations for a month are not sufficient. I don't know whether ICRC will supply aid to us for the coming months. They didn't tell us anything," said U Tin Hla of Pyinchaung village-tract.

Fighting between the military and Arakan Army (AA) has persisted for nearly two years in Arakan State, with civilians in conflict zones frequently reporting food insecurity as farming, foraging and supply routes are disrupted or forgone entirely.