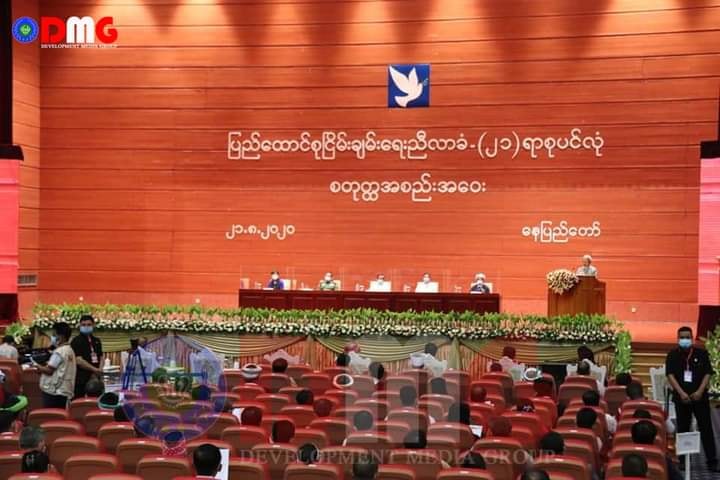 Khaing Roe La | DMG
21 August, Nay Pyi Taw 
Part 3 of the Union Accord, considered a foundation of Myanmar's efforts to establish a democratic, federal union, was signed by representatives of government, the military, Parliament, ethnic armed groups and political parties at the conclusion of the Union Peace Conference – 21st Century Panglong on August 21.  
The Part 3 provisions do not address the matter of state constitutions, as negotiators were unable to hammer out their differences ahead of the UPC. 
"At the moment when we are about to sign the Union Accord, out of the five basic principles, one important principle which is the right of states to formulate their own state constitutions, in other words, guarantee for self-determination, could not be incorporated into the agreement although very tough negotiations were held late into the evening on 12 August; we had to leave it as 'to be discussed further,'" State Counsellor Daw Aung San Suu Kyi said in her speech at the opening ceremony of the fourth session of the UPC on August 19. 
"Although we could say that the reason this had to be left behind was that agreement could not be reached on the use of the words 'state basic law' and 'state constitution'; it was the result of attempts to define the meaning of words," she continued, according to a transcript of her remarks published in state media. "In actual fact, this is because of concerns and anxieties existing on both sides. If we made further analysis of these concerns and worries, we would be able to see clearly and distinctly that it was because of looking with suspicion and not having enough trust." 
Padoh Saw Kwe Htoo Win, vice chair of Karen National Union, emphasised the importance of state constitutions to achieving a federal system of governance. 
"Each state should have its own constitution, if we called it its sovereignty or self-determination," Padoh Saw Kwe Htoo Win said. "The government might talk about it as we demanded. We talked about having state constitutions because it is necessary in a federal union. What the government was thinking is to share power with states in a form with strong centralisation. We are thinking about how to share our power with the central [government]." 
Saw Mya Rar Zar Lin, a member of the Union Peace-Making Central Committee and Arakan Liberation Party, said ethnic minorities do not consider the peace process to be even halfway complete because matters related to state constitutions remain unresolved. 
"We hoped the discussion on the state constitution could reach an agreement. If we can get the state constitution, we can say we have reached 50% of the path toward peace," she said. 
The issue will be discussed in political dialogues post-2020, she added. 
The fourth iteration of the Union Peace Conference – 21st Century Panglong was postponed multiple times due to COVID-19, and in the end a handful of ethnic armed groups did not send representatives to the confab in Nay Pyi Taw, including the Arakan Army, which was denied an invite.